Target: eminent domain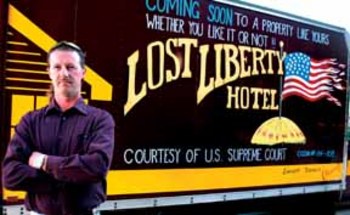 Two legislative panels were scheduled to hold a joint meeting Oct. 11 to hammer out their response to the U.S. Supreme Court's controversial ruling on eminent domain.
The separate Senate and House panels studied eminent domain this summer after the high court permitted the city of New London, Conn., to take a group of older waterfront homes so a private developer can build offices, a hotel and convention center.
The high court's narrow 5-4 ruling was so contentious that some critics launched a campaign to seize Justice David Souter's farmhouse in Weare to build a luxury hotel. Others singled out Justice Stephen Breyer's vacation home in Plainfield for use as a park. Both justices voted on the prevailing side.
While the court supported New London in its case, the justices did say that states can pass more restrictive laws to prevent such takings.
That's exactly what is being studied by lawmakers.
The Senate Task Force on Eminent Domain unanimously endorsed legislation last month that would block governments from taking land by eminent domain for private development. The proposed bill for the 2006 session would only allow eminent domain takings for a "public use."
The bill would replace language in existing law that allows such takings for a "public purpose," a broader concept that could allow government to take land and sell it to a for-profit entity.
Cornish Democratic Sen. Peter Burling asked if such a definition could hamper the ability of city and town officials to improve a blighted area by selling land to housing developers.
"Are we setting up a situation where a community could not sell off lots privately?" Burling asked.
Former Senate legal counsel Richard Lehmann answered, "Yes, I believe you are."
Eminent domain for private development could be used in a limited way if that private use was "incidental" to the total project, he said.
Committee members noted that private development could occur if a city or town purchased a property outright from a private owner rather than having to take it by eminent domain.
Lehmann said the new law may act as an incentive for government and private owners to negotiate a sale, as that allows the public buyer to have more options.
"I think we've struck the right balance here," said Lempster Republican Sen. Robert Odell, who chaired the committee.
Gov. John Lynch, Senate President Ted Gatsas, R-Manchester, and House Speaker Douglas Scamman, R-Stratham, have all said the legislation will be a priority for them when lawmakers return in January.
Nashua Democratic Sen. Joseph Foster said the bill should take effect July 1, 2006.
The House committee is working on a proposed amendment to the state Constitution to certify restrictions on eminent domain.
"I basically felt that both committees are very close in our approach," Odell said.