Taking the sweet route through New Hampshire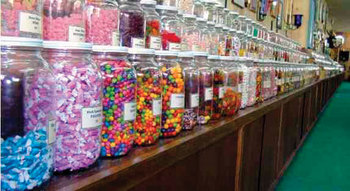 A visit to our coastline. A hike in our mountains. A stroll through anyone of our quaint New England towns. Could travel through New Hampshire be any sweeter? Absolutely — if you leave the scenic vistas and turn your attention to satiating your sweet tooth.
No road trip to a New Hampshire destination is complete without a stop for something sweet. Fortunately, the Granite State is peppered with candy shops and old-fashioned general stores stocked with everything from penny candy and licorice whips to hand-dipped truffles.
Chocolate is the star at two family-owned candy operations in the southern part of New Hampshire, one boasting a 72-year history and the other less than five years old.
Van Otis Chocolates, at 341 Elm St. in Manchester has been producing handcrafted chocolates and award-winning Van Otis Swiss fudge since 1935. Tours of the new facility are offered every Tuesday, giving chocolate lovers insight into the skill it takes to create "New Hampshire's Best Chocolate" (as named by our sister publication, New Hampshire Magazine, for six consecutive years).
In addition to its variety of traditional chocolates and Swiss fudge, Van Otis offers a selection of chocolate-covered pretzels and popcorn and an assortment of freshly roasted nuts.
The Van Otis Café boasts a menu of soups, salads and paninis as well as fresh pastries, Starbuck's Coffee and Van Otis's own gelato.
Newer to the southern New Hampshire chocolate scene but growing in popularity is Swan Chocolates on the Daniel Webster Highway in Merrimack and in the Landmark Building on Main Street in Nashua.
Launched by husband-and-wife team Michael and Theresa Anderson in 2003, Swan Chocolates has already earned national recognition for its gourmet truffles and other confectionary creations. Swan has even appeared as a prize on the "Wheel of Fortune" TV game show.
Visitors to the family-owned operation can watch the candy-making operation through the company's viewing window.
If you happen to be in the area on Saturdays, you can stop in and indulge in Swan's chocolate fountain. Fruit and other dippable treats are available at the store most Saturdays from 11 a.m. to 5 p.m. for guests to dip in to the Belgian chocolate cascading over the fountain's five tiers. Call first to make sure the fountain is running.
If you're heading up I-93 to Concord, you can stop by the Granite State Candy Shoppe on Warren Street, where the Bart family has been making candy the old-fashioned way since 1927.
You can watch the process through the picture window overlooking the candy making operation.
If top-quality chocolate is your thing you'll find it here, shaped in everything from long-stemmed roses to chocolate trout. And whether you're looking for traditional old-fashioned chocolates, brittles or fudge, or chewy gummy worms, Swedish fish or jellybeans, you'll find it at this stop.
Not in the mood for candy? Then step into the Candy Shoppe's ice cream parlor and indulge in a cool treat.
If your travels take you out on I-89 to the college town of Hanover, you can stop at The Chocolate Shop on Lebanon Street, where you will find more than 350 varieties of gourmet chocolate bars and bulk chocolate from around the world as well as locally made Lake Champlain Chocolates and handcrafted truffles.
The Chocolate Shop also has a huge assortment of kids' favorites and hand-dipped chocolate covered fruit.
The 60-foot candy counter at Zeb's General Store in the village of North Conway makes traveling north worthwhile anytime of the year.
From the store's décor to its inventory —especially its candy, a visit to Zeb's is a step back in time, and adults will have as much fun as children while taking in the endless variety of sweets. Zeb's nostalgic collection includes stripped candy sticks, licorice laces, NECCO wafers, candy buttons, wax bottles, fireballs and dozens of other choices.
Gummy creatures, Sour Patch Kids, Chocolate Moose Pops and moose droppings are just a few of the more contemporary selections available at Zeb's General Store.
For the most serious candy connoisseur, however, a trip to the state's Northwest corner is a necessity. A visit to Chutter General Store on Main Street in Littleton will deliver any candy lover to his or her mecca.
Measuring nearly 112 feet, Chutter's candy counter is listed in the Guinness Book of World Records for being the longest in the world. The three-tiered counter runs the entire length of the store and holds nearly 800 jars of candy representing the sweet tastes of yesterday and today.
Pixie Stix and Mary Janes sit in jars beside licorice whips and gummy bears. Sweet Tarts and sour worms, fireballs and gumballs, every type of candy you can think of — and some you may never have heard of — line the rows putting smiles on faces and making life in New Hampshire a little bit sweeter.