Swanzey readies Safford Drive ribbon-cutting
Eagerly anticipated connector road will open 350-acre Economic Revitalization Zone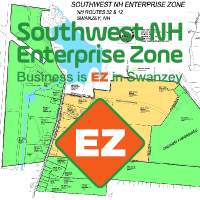 The town of Swanzey is set to celebrate completion of the Safford Drive connector road, a 2,700-foot-long, $24 million road that is designed will provide east-west passage between Routes 12 and 32 and open up for development the Southwest NH Enterprise Zone, a 350-acre area designated by the state as an Economic Revitalization Zone.
An official ribbon-cutting ceremony will be held Friday, May 29, featuring a keynote address by Carmen Lorentz, the state's director of economic development.
"While this is the end of the work on the roadway, it is the beginning of opportunities for businesses wishing to relocate to the Southwest NH Enterprise Zone" said Sara Carbonneau, the town's director of planning and community development.
Park Construction Corp. of Fitzwilliam was the contractor on the project, and the town's economic development project advisor is the Arnett Development Group of Concord. Bonding was via TD Bank. Funds for road and utility construction were provided by accumulated receipts from Swanzey's Tax Increment Financing Zone and a 2014 Tax Increment Bond.