Suspicious white powder surfaces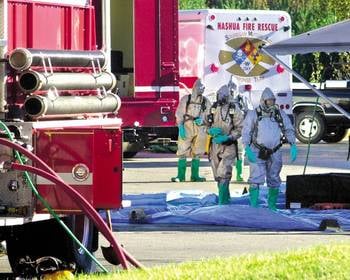 WILTON – Several employees at a local direct-mailing company went through decontamination procedures and were taken to a hospital Tuesday afternoon after a suspicious white powder was found in an envelope opened in the company mail room.
"There was an unknown powder and we took precautions," said Sam Blackford, president of PEP Direct, where the envelope was found.
Blackford declined to be more specific until tests on the substance were concluded. A portion of the sample was sent to the state lab for evaluation, fire officials said.
Tuesday's incident apparently began around 2 p.m., near the end of the first shift, after the envelope was opened. A woman in the mail room encountered the white powder and reported some health concerns, according to an employee of PEP Direct, who asked not to be named.
Air conditioning was shut down soon afterward to keep the potentially hazardous material from spreading.
"When they found out that there was a problem, they put it over the public address system for people to leave the building," said the longtime employee. "Overall, everybody took it in stride. They weren't too worried."
Fire and rescue crews were called in from Wilton and Lyndeborough, and about six Nashua members of the Souhegan Mutual Aid Response Team also responded to the incident, according to Nashua Fire Rescue Chief Roger Hatfield.
The decontamination unit was set up in the parking lot behind the loading docks, and a number of employees were treated.
At 5 p.m., Hatfield said he believed there were no more than five people who had reported itching symptoms after coming into contact with the powder, and that the team was to perform decontaminating procedures with each of the persons affected.
"They got hosed down, and ended up going to (a) hospital just to be checked out to make sure," said the employee, who did not encounter the power and was not decontaminated.
It was not clear Tuesday exactly how many people were treated or whether any widespread health problems had been encountered.
PEP Direct, still known to some in the area by its former name of PVA, is a direct-mail company that employs hundreds of people at its roughly 150,000-square-foot plant alongside Route 31, near the Lyndeborough border. It regularly receives and sends large amounts of mail.
By the time employees showed up for the start of second shift at 3 p.m., police had cordoned off the entrances, and the second shift was sent home. First-shift and daytime workers who were in the building at the time were also sent home around this time.
PEP Direct has called in hazardous-material teams due to suspicious material in envelopes at least once before, although this appears to be the first time that decontamination has taken place.
PEP Direct was founded in 1973 by the Paralyzed Veterans of America and the Eastern Paralyzed Veterans Association as a fund-raising arm of the groups — hence its longtime name, PVA/EPVA.
The company, which has branched out into providing various services for direct-mail advertising campaigns, has long had a major presence here, with employment swelling to as much as 500 during busy times of the year.
In May, PEP Direct was acquired by Quadriga Art of New York, a privately owned specialty marketing firm.