Surgery sets N.H. precedent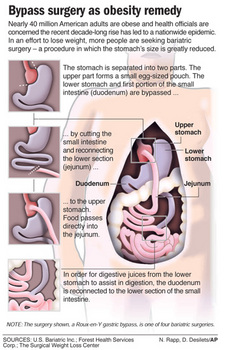 Chester resident Patricia Tingos was thinking about her family when she recently convinced the New Hampshire Health Plan to cover her bariatric surgery, a surgery for the morbidly obese that the plan has not covered before.
Health-care experts are thinking about whether that approval sets a precedent for other cases to come.
Bariatric surgery alters the digestive system and leads to a reduction in the amount of food the stomach can comfortably consume. It costs about $30,000, and patients must meet a number of requirements, including being morbidly obese or being overweight with numerous health complications.
A person with morbid obesity has a body mass index – a comparison of a person's weight to his or her height — of more than 40, a criterion Tingos met.
Bariatric surgery is not a mandated service in New Hampshire, and Leslie Ludtke, health-care policy analyst for the New Hampshire Insurance Department, says it is generally not covered by insurance plans.
The New Hampshire Health Plan, which covers Tingos, is designed to be the health insurer of last resort for state residents. Established in 1998, the plan is a high-risk pool that provides health insurance to residents who are declined coverage through the private market and have a pre-qualifying condition or are otherwise eligible.
Tingos appealed to the New Hampshire Health Plan based on her specific medical conditions. She is about 5 feet 5 inches tall, weighs over 300 pounds, and has over 20 illnesses, including diabetes, respiratory problems and high blood pressure.
"Every time I lost a certain number of pounds, but it comes right back and doubles," Tingos, 40, said of her continuing battles with weight loss. "Every time I tried to exercise I got sick because of my respiratory problems."
Looking to the future
Tingos underwent the surgery in September, at an out-of-pocket cost of about $4,000, including deductibles and pre-surgery exams.
Fred Potter of the New Hampshire Health Plan said the plan generally mirrors what is available in the individual insurance market in New Hampshire, in which, he said, obesity treatments are typically not covered.
He said Tingos's case was unique, and he does not see it setting a precedent, even though it was the first appeal of its kind in New Hampshire.
"We are in the health business," he said. "We're not in the weight-loss business. This was a very specific situation where she had actually done an incredible job of trying other alternatives."
But, looking ahead, state Insurance Commissioner Roger Sevigny sees residents wanting and willingly paying for services to make them better, whatever those services may be. Bariatric surgery is already fitting that profile.
As of 2004, the Centers for Medicare and Medicaid had a policy of not covering bariatric surgery. In 2006, the centers revised medical policies and now covers the surgery.
The number of surgeries nationwide is also on the rise. Some 13,365 bariatric surgeries were performed in 1998. By 2002, that number had increased to 72,177, according to a study of national patient records printed in the Journal of the American Medical Association.
Ludtke said the state does not have data on how many people have the surgery in New Hampshire each year because her agency only tracks appeals to the department to win coverage, and there has been only one appeal since 2000. That was in 2006, when the person was denied coverage because the policy excluded the surgery.
Susan Pisano of America's Health Insurance Plans did not have any specific data on coverage nationwide, but said it varies from state to state.
Sevigny also wonders if Tingos's approval will lead to increased costs. The New Hampshire Health Plan is funded mostly by patient premiums, but state health insurance companies pick up the tab when those premiums end. Insurers now pay 5 cents per covered life they insure to the plan, though that per-life cost was nearer to $1 when the plan first started in 2002.
Plan administrator Roy McCandless said the plan remains fiscally sound, noting that expensive surgeries are expected, given that the plan insures those with the greatest medical needs.
Varied coverage
Coverage in New Hampshire varies by health plan and the type of coverage, be it commercial or individual.
Anthem Blue Cross and Blue Shield allows employer groups larger than 50 to buy coverage for the surgery, but does not offer that option to smaller groups, said spokesman Christopher Dugan. Dugan was not sure if the option was available with individual insurance, but did not think it was. Through commercial and individual coverage, Anthem covers the majority of people in the state, or about 560,000 people.
Dugan said Anthem's plan removed the rider option for smaller groups in 2005 when employees complained of the high cost, given the small number of people having the surgery.
MVP Healthcare does not cover the surgery. MVP regional director Chris Henderson said there are "different health-care nuances or needs in different states," when asked why MVP does not cover bariatric surgery in New Hampshire, but does, he said, cover it in New York.
Cigna and Harvard Pilgrim Health Care both offer plans that cover the surgery.
Cigna insures about 150,000 people in New Hampshire, including state employees. New Hampshire spokeswoman Lindsay Shearer said Cigna offers employers nationwide plans that cover the surgery, and she said the majority offer that coverage. She did not have specific information on which New Hampshire employers choose to cover it.
Harvard Pilgrim covers about 90,000 people for both individual and commercial insurance.
Whether the surgery is covered or not isn't the issue for Dr. Daniel Jones, director of the bariatric program at Beth Israel Deaconess Medical Center in Boston, where Tingos' surgery was performed.
Jones said it should, and the reason is economics. Jones says the surgery pays off in the long run.
One third of Americans are overweight, and one fifth are obese, he said. For instance he says, diabetes costs $10,000 a year, and bariatric surgery can get rid of a person's diabetes in three to six months.
The surgery, he said, also has proven results. The risks include a 1 percent mortality rate and a 10 percent to 15 percent complication rate. But the results include eliminating diseases related to obesity and weight loss of 50 pounds or more.
One person not thinking about precedent at all is Sen. Jack Barnes, R-Raymond, who says it was the right thing to do for Tingos.
Barnes received an e-mail from Tingos and helped her appeal to her health plan to cover the surgery.
"That's an example that the government does work," Barnes said.