Sununu urges a federal role in insurance regulation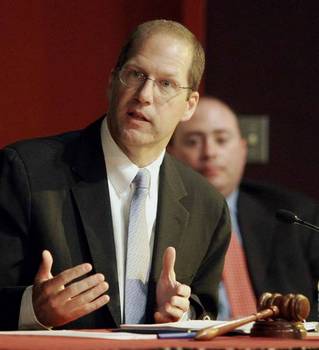 Concord attorney George Roussos, a former assistant insurance commissioner, is well aware of the controversy over a bill sponsored by U.S. Sen. John Sununu to establish dual federal-state regulation of the insurance industry. Some of his clients are for and others are against the bill, he said. And Roussos stands with his clients.
"Within the quiet halls of the insurance industry, this is quite the buzz," he said, being careful to neither endorse nor oppose the measure. "It's the biggest issue in the industry, certainly, in the last 30 years."
To some, reform of insurance regulation is long overdue. Others suggest the optional federal charter being proposed is either premature or unnecessary altogether.
"I think my comment there is, why fix it if it ain't broke?" said Don Forsberg of Phenix Mutual in Concord. "Right now, we have an excellent insurance commissioner, and we've had good commissioners all along. They understand the state of New Hampshire and its requirements and regulations much better than the folks in Washington, D.C. 'If it ain't broke, don't fix it.' That's a good Yankee line to me."
But others in the industry think the current system of regulation of a national and international industry by 50 different states is in need of some repair.
"The current system of state regulation is broken and needs fixing," said Dennis Kelly, director of federal media relations for the American Insurance Association in Washington, D.C. "You've got 50 different states with 50 different sets of regulations. The federal system will streamline insurance regulation and make it more efficient, because there will be one set of regulations for those companies that choose to be federally regulated."
The National Insurance Act of 2006, sponsored by Sununu and Sen. Tim Johnson, a South Dakota Democrat, would introduce federal regulation of an industry that has so far been regulated almost entirely by state governments and their various commissions and departments of insurance.
It would create an Office of National Insurance within the U.S. Department of Treasury and give producers, agents and brokers of both life and property and casualty insurance the option of operating under state or federal regulation. Supporters compare it to the dual system of bank regulation that allows banks to do business under either a federal or state charter. But New Hampshire Insurance Commissioner Roger Sevigny claims that comparison is misleading.
"The arena of insurance is dramatically more complex than banking," Sevigny said. "And all that complexity demands that local expertise that we are able to give it with a state-based system."
One defect Sevigny anticipates in the proposed federal regulatory framework is in the area of consumer protection. The 290-page bill contains only 15 lines dealing with protection for consumers, he said.
"It's my belief and the National Association of Insurance Commissioners' belief that consumer protection is extremely weakened and the insurance industry becomes dramatically deregulated (for) consumers doing business with a federally chartered entity. It has considerably less protection for them than for those doing business with a state-chartered entity."
'Fragmented' system
Sununu said he is not surprised to find the bill opposed by the state insurance commissioners.
"This is a piece of legislation that standardizes regulation and reduces the burden currently placed on new products introduced and, in some cases, would reduce state regulatory power. So naturally state regulators would tend to oppose it. Some regulators are more defensive than others. Roger's been very helpful, but (the insurance commissioners) want to retain as much power as they possibly can."
The New Hampshire Republican views the current system of state regulation as inherently "broken" into 50 different parts.
"We have a fragmented regulatory system that forces companies to deal with 50 jurisdictions, and that results in higher costs for consumers and a less competitive industry here in the United States when it comes to competing with foreign firms," said the senator. He said the bill provides for consumer protection with the creation of an ombudsman to handle consumer problems and complaints.
"When you're establishing something and giving someone power to enforce consumer protection laws, it's not necessary to go on for page after page about how that person will operate," Sununu said.
"What those 15 lines do is promote sweeping power for the director of insurance to promulgate regulations that will be consistent with the toughest consumer protection standards now in the insurance regulatory framework," said Michael Bartholomew, chief counsel for state relations for the American Council of Life Insurers. "It isn't dismissive. It empowers the regulator to provide for consumer protections. I think the drafters cut down on the number of pages because the bill we had submitted originally was about 700 pages long. A lot of trees have died for that bill."
Consumer protection
Different and sometimes conflicting state insurance regulations put an unfair burden on national companies selling products like annuities and pension plans, Bartholomew said. "The state regulator in most instances has authority to approve a product before it can be taken to market. That puts the life insurance industry at a competitive disadvantage with industries like securities and banking that are not subject to having their products approved."
Bartholomew, who deals primarily with the New England states, said it can take as long as 18 months between the time a new product line is submitted and when it receives regulatory approval. "I've heard of longer periods," he said. "When you have to wait any length of time while your competitors are out there running with their products, it's a significant difference," he said.
A federal charter would spur innovation as well as permit cost efficiencies for companies writing insurance policies in a number of states, Sununu said.
"I think it's unreasonable to think that a firm with a national charter can't offer products in all 50 states dealing with one set of regulators," he said. "Having a national system doesn't mean the products offered in every state will be identical. But it does mean you're dealing with one regulator applying national, unified regulations across the country."
And Bob Nash, president of the 168-member Independent Insurance Agents and Brokers of New Hampshire, said his organization has plenty of reason for its unequivocal opposition to the bill.
"Particularly in the property and casualty area, it's always been regulated by the states, and for a reason: so there can be immediate response to consumer complaints and inquiries," said Nash. "We fear that to take that immediacy out of the process with an optional federal charter would put consumers at a substantial disadvantage."
Nash said he is not swayed by the bill's provision of an ombudsman.
"Why replace 50 ombudsmen with one?" he said, referring to the state insurance departments. "What if you had your auto policy with one of the companies that chose the federal charter option and was under federal regulation, and you were unhappy with the claims procedure? You want to be calling Washington on that?"
Insurance regulation, said Nash, has two functions: to make sure insurers remain solvent and to insure fair treatment for consumers.
"To suggest to me those two functions can be better handled by the federal government than by each state capital flies in the face of common sense," he said.
Others in the industry are less categorical in their assessment of the bill.
"Our position is evolving a little bit," said Mike DiRusso, general counsel for Peerless Insurance in Keene, a part of the Liberty Mutual Group. "In the past we've been a supporter of state regulation. We think the state of New Hampshire has an excellent regulatory environment, but there are some issues that I think warrant looking at the option for a federal charter, at least for commercial lines."
Some lines of coverage affecting things like asbestos and even terrorist attacks might be better regulated nationally, said DiRusso, who thinks it will be worthwhile to at least have a debate on the issue. "We think the Sununu bill is a good vehicle for that debate," he said.
No quick resolution
Some industry spokesmen say regional and even climatic differences point to advantages in state regulation. Policy provisions covering damage done by hurricanes might be looked at more closely in Florida, for example, while tornadoes may be more of a concern in Nebraska. Ben McKay, senior vice president of the Property and Casualty Insurers of America, raises the issue of federalism as well.
"Fundamental to our form of government is the principle that the states are the laboratories of democracy," said McKay. "This is true in terms of the insurance industry as well, where the states are the innovators of new regulatory structures."
"There is some truth to the concern that we're creating a new federal regulator," Sununu conceded. "On the other hand, this is a national and international business and a commercial concern, and that is an area where the federal government should focus its attention. The framers fully understood the federal role in commerce where business is being done on an interstate basis."
No one expects a quick resolution to the issue. Hearings on the bill have been held by the Senate Banking, Housing and Urban Affairs Committee, of which Sununu and Johnson are members, but it appears almost certain no action will be taken in the remainder of this election year. Supporters hope senators will give the proposal due consideration in the next year— or years.
"This is a complex issue, and it's more important to get it right than to get it fast," said the American Insurance Association's Kelly.
Forsberg of Phenix Mutual also would like to see the nation's lawmakers take their time with the bill, if they can't be persuaded to shelve it altogether.
"I haven't talked to Senator Sununu about this bill, but if I do, I think I'll suggest he put it back in the drawer," said Forsberg. "At least until I retire — then they can do what they want."