Sunset Hill House sold in Franconia
Wason Associates negotiates deal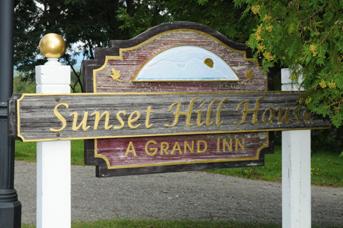 The Sunset Hill House in Sugar Hill, closed since Dec. 12, will reopen later this year under the ownership of Richard Green and Sally Carter, according to Wason Associates Hospitality Real Estate Brokerage Group.
Wason, based in Portsmouth, negotiated the deal.
Green and Carter, previous owners of the Carter Notch Inn in Jackson, will be renaming the facility the Inn at Sunset Hill.
The resort consists of two lodging facilities with 30 guestrooms on some 70 acres of land. It features a nine-hole golf course – billed as the oldest golf course in the state – and has views that look out over the White Mountains to the east and the Green Mountains to the west.
"We are very pleased with the successful transaction of the Sunset Hill House," said Earle Wason, president of Wason Associates. "The Sunset Hill House brings together the rustic charm of the White Mountains and all of the modern amenities that guests expect and enjoy."