Sunrise Labs, HT Presspart partner on fully-connected inhaler
Miniaturized printed circuit board uses Bluetooth Low Energy to transmit data to smartphone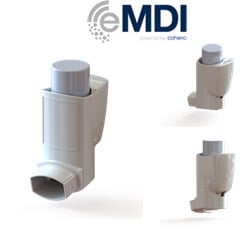 Product development firm Sunrise Labs has designed a miniaturized printed circuit board that enables smartphone connectivity for global drug delivery manufacturer H&T Presspart's eMDI inhaler.
The battery operated, low power consumption printed circuit board detects the activation of the inhaler and transmits information to a smartphone app called BreatheSmart, developed by Cohero Health for iOS and Android.
The eMDI inhaler has been deemed market ready, according to a a press release from H&T Presspart. Fewer than 50 percent of patients take their preventer medication as prescribed, leading to poor symptom management, hospitalizations, avoidable deaths and spiraling healthcare costs, said the manufacturer.
Sunrise Labs, which is based in Auburn with plans to move to Bedford in the spring, was selected for the project based on its extensive knowledge of cybersecurity protocols, Bluetooth/wireless technology, battery and power management, sensor integration and familiarity with FDA regulations for medical devices.
"Improving the standard of care and patient outcomes is what we define as success," said Eric Soederberg, president of Sunrise Labs, Inc. "We're proud to have supported H&T Presspart and Cohero Health to develop the next generation of MDI devices using bluetooth technology for enhanced dosage monitoring, while leveraging an existing, compact design."