Suing Segway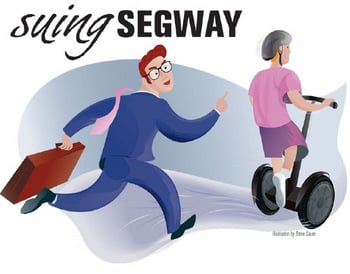 Richard Lund, a warehouse worker from Utah, was riding his brother's Segway in Atlanta when he descended onto a deserted paved walkway on a sunny day in May 2005. He claims the machine suddenly jerked to one side and began heading for an area of dense trees. He says he jumped back, awkwardly landing on his right leg, which snapped.
Kermit Rabe was visiting a warehouse in Grandview, Mo., looking for storage space for his new canned popcorn business the day after Christmas 2003 when the seller offered to let him try out his Segway. He says he got on, only to find himself going backward, at seemingly increased speed. He says he was thrown from the transporter just before it crashed into the wall, resulting in his bones protruding through his wound near his knee.
Both of these accidents did not necessarily happen the way they were described. But they are a sampling of some of the allegations contained in about a dozen lawsuits filed against Segway Inc., the Bedford-based company that produces the two-wheeled, self-balancing electric vehicle. Invented by the legendary Dean Kamen, the Segway employs a revolutionary technology that is designed to automatically balance the rider and prevent such falls.
The company has voluntarily recalled all of its machines twice. The first time was in 2003, when it recalled some 6,000 Segways because some suddenly stopped after their battery ran out of juice. The second was in 2006, when another 23,500 units were recalled after a few machines were found to suddenly go backward. The company attributed the problems to software glitches and offered to upgrade the units without charge.
At the time of its second recall, Segway said that it only had six reports of injuries. But now, at least a dozen lawsuits later, the company is mum on the matter. When responding to the lawsuits, the company uses boilerplate language, denying fault, but professing ignorance about the circumstances regarding each fall.
When NHBR asked Segway about the number of lawsuits, accidents and injuries it faces, spokesman Eric Fleming issued a statement.
The company's policy is not to provide information about "individual lawsuits or the number of cases currently pending against Segway." Fleming ignored written questions about the number of injuries.
However, he added, "it's not unusual for a person to claim that an incident that he/she has experienced on a Segway PT (personal transporter) is related to a recall condition …. Segway is becoming a significant player in the transportation industry, and just like any other manufacturer, we are subject to lawsuits."
Each Segway comes with a user material and an offer for a training session, he said.
"Unfortunately, some people don't ride in accordance with our User Materials and respond with lawsuits against our company," Fleming wrote.
How many suits?
Segway also won't reveal its sales figures, but by looking at the total number recalled by the end of 2006, less than 30,000, at a price per unit of some $6,000, were sold. Oil prices may have boosted the sales of Segways some 40 to 50 percent a year. In fact, the company told NHBR that sales increased 25 percent in the last quarter alone.
Still, the relatively small number of lawsuits looms larger when compared to the total number of Segways out there, said Robert K. Handelman, an attorney representing Rick Wagner, an auto dealer about 40 miles south of Toledo, Ohio.
According to both Handelman and the lawsuit Wagner has filed, Wagner and his teenage son were riding the two Segways they bought from Sam's Club in a field near his home on May 5, 2007, when it suddenly went into reverse, bucking him off, and breaking his neck. The Segway was subject to recall and upgraded, said Segway in its answer to the suit.
But, said Handelman, "these are the just the reported incidents that went to litigation. That's significant. How many were injured and didn't sue? How many were thrown off and not injured?"
It is not clear how many lawsuits have been filed against Segway. The dozen suits only represent those that reached federal court, because that system is easily searchable. But there is no way to find suits filed in state courts without checking the dockets of all 50 states, many of which are not on line, and reporting on Segway suits is sporadic.
In addition, many of the federal suits start in federal courts, and there is no indication how many stay there.
There is an indication that there are more suits out there than meets the eye. In December 2007, the San Diego Union-Tribune ran an article about Samuel Davis, a New Jersey attorney who was a former Segway rider. Davis reportedly brought the Segway on trips to Iowa, where he campaigned for president candidate Dick Gephardt in early 2004. Davis became concerned about the safety of the machines, writing the company to advocate horns, a mirror and a light, but soon he also became involved the balance issue, the article says. It quotes him claiming to be involved as an attorney in eight to 10 Segway suits. But NHBR could only find his name on one lawsuit, which was filed in Florida and reached federal court.
Filed by Michael Pisani, a resident of Short Hills, N.J., the complaint says he was thrown off his Segway while vacationing in April 2005 in Florida at the Amelia Island Plantation (another defendant in the suit), thanks to a sudden power loss. The suit charges that Segway has amassed a "database of accidents and related incidents specifically to software and battery failure" and called the product "unreasonably dangerous."
Davis would not comment on the lawsuit or any of the others he may be involved with. And he isn't the only one who is silent. Most of the plaintiffs and their attorneys also refuse to discuss their cases. Those who settled cited confidentiality agreements. Those with open cases said they feared it would jeopardize a settlement for the ones that don't.
Of the settled cases, one involves Rabe – the aforementioned canned popcorn entrepreneur who lives in Shawnee Mission, Kan. — who claims he went bankrupt, partly because of the Segway accident, his attorney charged.
According to federal court records, the parties reached a settlement in April 2007.
Rabe's attorney, Dennis J. Cassidy, wouldn't disclose the amount of the settlement, or even if there was a monetary settlement, citing a confidentially agreement, but Rabe's bankruptcy trustee's report in April 2008 reveals that there was $26,765 in settlement funds from the Segway suit. It is unclear whether that amount is before or after attorney's fees.
'A face plant'
The first and longest-lived federal liability suit against Segway was filed in Georgia, before the first recall, by Timothy James.
James was the senior supervisor for Ambassador Force, a private security force in Atlanta that contracted with Segway in 2002 shortly after it was first introduced. In his suit, James claims that he was riding his Segway on a May evening of that year to respond to an incident with his partner when they came to a slight incline. His partner negotiated the incline safely, but when James slowed to 2 to 4 miles an hour to go down the incline, the left wheel stopped suddenly, causing the transporter to unexpectedly rotate toward the road, causing James to fall and hurt his knee and thumb, the suit says.
James had to undergo three knee surgeries, incurring some $60,000 in medical expenses, and the knee was 48 percent impaired, according to the suit.
James' suit, which was filed a week before the first recall in 2003, wound up in federal court, was dismissed, reinstated on appeal and went to discovery with depositions of both the defendant and Segway officials (who objected on the grounds that it could reveal trade secrets). The matter was finally settled on Sept. 1, 2006, shortly before the second recall.
Segway also settled suits filed after the first recall in Texas and California, as well as two suits this year, following the second recall. In March, Segway settled a suit filed by the parents of Daniel Lindabaur, a Minnesota teenager who tried a Segway at an open house event at his father's workplace.
According to the suit, the Segway "suddenly stopped, slammed forward and threw him to the ground, causing him to crash face-first into the ground … shattering his upper and lower jaws, knocking out two of his teeth, breaking his nose."
This was the cause of the first recall, and the failure of Segway, and the company holding the open house – Mobile Entertainment – contributed to the injury, Lindabaur alleges.
And in May of this year, Segway settled with Matthew Hemker, who was injured on August 2006 while taking a tour on Forrest Park outside the St. Louis Science Center when the product "abruptly stopped, throwing the plaintiff to the ground" injuring the wrist, and wracking up some $19,500 of medical bills, and lost wages to the tune of more than $40,000.
The rest of the suits are still in litigation.
The only one to be filed thus far in New Hampshire involves Lund, the Utah warehouse worker. That's because there's a greater time limit for filing in New Hampshire, as compared to Georgia, explained Doug Griffith, an attorney based in Salt Lake City. Like the transporter owned by the aforementioned Wagner, the Ohio auto dealer, Segway said that this transporter was subject to recall and was upgraded.
Thus far, the only other Segway suit in New England was filed in Boston federal court last September. Fred Cowan, a community activist from Gloucester, Mass., was a regular Segway rider for two years when in September 2005, it suddenly stopped, causing – in the words of attorney Joseph G. Abromovitz — "a face plant" in concrete, resulting in a right hand fracture, broken wrist, shattered mouth and a number of teeth knocked out.
"The injuries were pretty horrendous," said Abromovitz. "Three years later, he is still in treatment." Abromovitz is asking asked for $350,000 in Cowan's complaint.
Bob Sanders can be reached at bsanders@nhbr.com.