Study: Milford Swing Bridge needs rehabilitation
Milford's 200-foot-long Swing Bridge was originally built in 1889 to give access to workers employed at the town's cotton, woolen and furniture mills.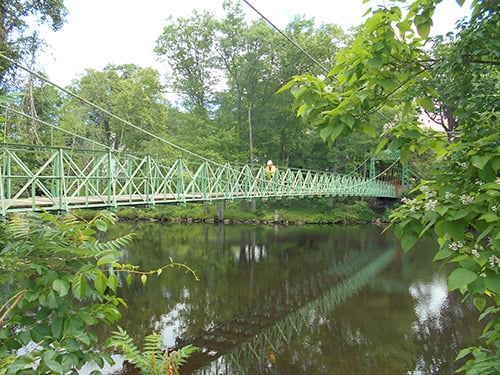 The Manchester-based engineering firm of Hoyle, Tanner & Associates Inc. recently completed the first step in what's hoped to be the rehabilitation of the town of Milford's historic Swing Bridge.
In completing the inspection and condition rating of the bridge, Hoyle Tanner identified deficiencies and drew up a budget for the rehab project. The inspection findings were used by the firm to develop repair recommendations and an annual maintenance plan to minimize further deterioration of the bridge.
The Swing Bridge lies near the Milford Oval, which is registered as a historic district by the state of New Hampshire.
The structure, a 200-foot-long pedestrian suspension-type bridge, was erected as the successor to two earlier versions. It was originally built by the Berlin Iron Bridge Company of Connecticut in 1889, at the height of the Victorian era, which can be seen through the bridge's elaborate ironwork and details. It was constructed to give access to workers employed at the town's cotton, woolen and furniture mills.
Today, the structure is used more for recreation and access to hiking and biking trails to the east and the heart of Milford's shopping district to the west.
The original pedestrian bridges at the crossing have long since washed away in floods, but the present span is in danger of coming apart from age and use, Hoyle Tanner found.
The bridge consists of two towering uprights supporting a wooden walkway hanging from a stretched set of wires. Overall, the firm said the bridge is in poor condition, and if left in its current condition without any repairs, it is estimated that in the next five to 10 years it may have to be closed.
According to Hoyle Tanner's project manager, Josif Bicja, "this unique structure is in immediate need of repair due to its poor condition. The town cannot afford to lose the Swing Bridge and is currently looking into applying for federal reimbursement and grant programs to fund the project."
The Milford Heritage Commission has set up a Save the Swing Bridge Fund. Donations can be sent to Chuck Worcester, Chair of Milford Heritage Commission, Town Hall, 1 Union Square, Milford NH 03055.