Student sues over yearbook photo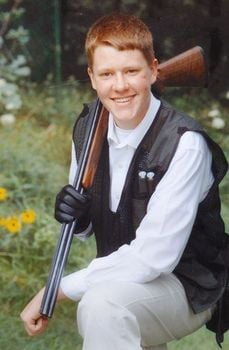 CONCORD, N.H. (AP) – All Blake Douglass wants is to pose with his shotgun for his senior yearbook photo.
No way, Londonderry High School said – so the 17-year-old senior on Monday took his case to federal court.
"We want the picture in the yearbook," said Penny Dean, his lawyer, after filing the lawsuit Monday in U.S. District Court.
The lawsuit seeks a temporary injunction so the picture can appear in the yearbook and a permanent injunction against the "pick-and-choose policy" of what photographs are published, Dean said.
The lawsuit names the Londonderry school board members, high school principal, school superintendent, town manager and school officials involved in the production of the yearbook.
An avid hunter, trap and skeet shooter, Blake said he decided long ago on his senior photo – an outdoor shot in a sportsman's pose, wearing a shooting vest and holding his broke-open shotgun over his shoulder. "That's a traditional pose," he said.
"Growing up, doing this activity together, we thought that was a good idea," said Sherwood Douglass, Blake's father, at a school board hearing last month. Sherwood Douglass taught Blake to shoot when he was in grade school. He once led Blake's Boy Scout troop, teaching gun safety skills.
"He would look at his yearbooks since he's been a freshman and say, 'I can't wait until I'm a senior – this is how I want my senior picture done,"' said Blake's mother, Kathy Douglass. "He's been talking about this for a long time."
Flipping through previous yearbooks, Blake saw some seniors posing with musical instruments, dogs, inline skates and a Ford Mustang.
"I would look at it and think that picture with the car is pretty neat; I want to put my hobby in, what I enjoy," Blake said. He said his gun is no different from a tennis racket, baseball bat or any other sporting equipment. "I don't see it as a threat," he said.
School officials say the photo lacks context in the yearbook's seniors section. "I still stand by that holding a saxophone is different from holding a shotgun," said James Elefante, principal. "It wasn't a threatening photo or anything like that. We just feel that it's not appropriate to put it in the senior portrait section."
Superintendent Nathan Greenberg said he's wary of the photo because of events like the 1999 Columbine, Colo., high school shooting in which two teenagers killed 12 students and a teacher before shooting themselves. "Maybe it's not fair but that's the reality," he said, adding, "Part of our contention is that it could be construed that the school could be endorsing guns."
Blake refused an offer to publish the photo in a specially created "community sports" section and to use a different photo – showing trap and skeet shooting equipment but no gun – in the seniors section. He said more classmates take his side than don't. "Most are in support," he said. "They just say 'I hope you succeed."'
He said a community sports page is a good idea but doesn't change his right to use the photo of his choice in the seniors section.
"You don't compromise constitutional rights," said Dean.
The Douglasses point to the school's symbol, a knight with lance and shield astride a charging horse, as a far more aggressive image that is sanctioned by the school.
And they object to years of photos showing students mugging with baseball bats, nooses and liquor bottles.
"There were some photos from time to time maybe that have slipped through and maybe shouldn't have," Greenberg said. He said photos were edited for content in the past.
Dean said the argument of appropriateness doesn't wash with the school's policy on student publications:
"We encourage the use of school sponsored publications to express student's points of view. They shall be free from all policy restrictions outside the normal rules for responsible journalism . . . Student publications shall provide as much opportunity as possible for the sincere expression of student opinion," it states.
"I think they should stick to their policy," Blake said. "They have one written but they choose not to follow it."
"If we were to list every policy," Greenberg said, "the students would have a book that weighed 25 pounds."
Dean, a gun enthusiast and specialist in gun cases, believes Blake was targeted because of his interests. She cited as proof teachers confiscating his hunting magazines and turning down requests for ROTC or a trapshooting team at school.
"What they're doing is basically discriminating based on content or message. You can't do that. you might want to but you can't – and especially you can't with a broad policy like this," she said.
Douglass holds firm. "It's worth it. It's what I believe in," he said. "I don't see why other people's pictures were allowed but not mine. Those were their hobbies and I just want to put my hobby in."