Stratham company installs smart armory system for federal agency
RuBee wireless tags allow for secure, smart rack audits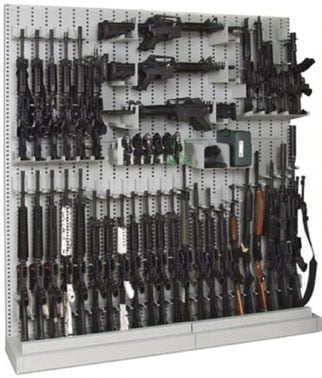 Visible Assets Inc., a Stratham-based manufacturer of RuBee wireless technology-based solutions, has installed a smart armory system at the Bureau of Reclamation, a federal agency that manages water resources in the West, fulfilling a contract to provide a weapons and equipment tracking system.
The smart armory, Armory 2020, is a three-layer security system that utilizes RuBee tags placed on each weapon with RuBee-enabled smart racks managed by Oracle11G software. RuBee is an alternative to RFID tags, however RuBee operates using long wave magnetic signals, versus radio frequency. That means RuBee tags are not blocked by steel or liquids and produce no compromising emanations or target risk, says the company.
That translates into an armory that can conduct a scheduled or on-demand fully-automated wireless weapon audit in minutes, with 100 percent read accuracy, claims the company. Within the armory are automated issuance stations, where guards can check-in or check-out a weapon after scanning their ID, documenting a date and time stamp in the system, and a RuBee DoorGuard that reads the weapon tag as it enters or exits the facility. If the weapon is not properly issued, the DoorGuard will alarm the network. Upon return, the Weapon Location Module provides the location on the rack and alerts users if a weapon is stored in the incorrect slot.
In addition, the Bureau of Reclamation purchased the Weapons Shot Counting tags and Prognostic Health Maintenance sensors that are attached to the weapons, providing asset tracking, weapon shot count, interval statistics regarding rate of fire and calculated barrel temperature. The features provide users with alerts forgeneral maintenance, cleaning and prevention of gas port and barrel erosion.
"Visible has over 1,200 active RuBee defense and industrial Internet of Things customer sites worldwide," said Tim Pierce, vice president of Visible Assets, Inc. "RuBee has consistently met the most critical customer requirement of 100 percent accurate read rates for all assets, even in high steel content environments and high EMI noise environments. We have hard data that shows both the automated smart rack audits and issuance are consistently accurate. Our system also meets all of the human, explosive, and security requirements."