Stonyfield Institute offers entrepreneurial insights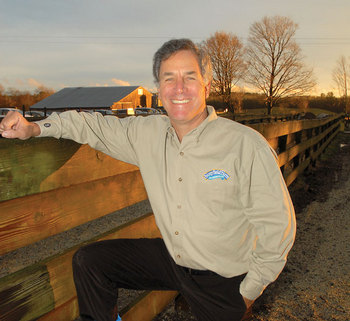 The School of Community Economic Development at Southern New Hampshire University, Londonderry-based yogurt maker Stonyfield Farm will present the third annual Stonyfield Farm Entrepreneurship Institute March 29-30 at SNHU's Manchester campus.
The experience – described by Stonyfield founder Gary Hirshberg as a "boot camp" for business owners — allows entrepreneurs of all types to focus on solving problems and swap stories with other potential or current business owners facing similar issues.
"The information shared at the seminar is information I wished I had when I was starting our business," said Hirshberg.
An entrepreneur himself, Hirshberg's yogurt business grew from just seven cows in 1983 to posting annual sales over $256 million in sales today.
Just as Hirshberg began with an organic concept for yogurt, the types of businesses discussed during the institute are as varied as the entrepreneurs themselves, ranging from high-technology providers to purveyors of specialty food products.
Co-sponsored by New Hampshire Business Review, the Stonyfield Institute places an importance on sharing anecdotes — or storytelling, as Hirshberg calls it – setting it apart from other business-building seminars. And with a typical audience of about 90 participants, the seminar is intimate, with plenty of time for sharing and ensuring that all attendees have a chance to ask questions and learn more about financing, marketing, managing change and other issues that concern growing companies.
"The common theme among the participants is that most suffer from isolation. They feel their problems or issues are uniquely their own. That's just not true," said Hirshberg. "The institute gives everyone a chance to participate and think about their problems. What someone thinks is a finance problem might actually be a personnel problem or a marketing problem. Sharing these kinds of things in a safe environment gives the participants a chance to play off each other's strengths."
When Hirshberg says safe, he means safe: Attendees must pledge not to reveal confidential information outside of the seminar.
"The institute only works when the participants can be completely open and candid about their business challenges. We drill down pretty deeply pretty fast into what's going on with your business, especially if you're presenting a case study," he said.
According to Hirshberg, the issues under discussion can run the gamut from contemplating bankruptcy to how to deal with explosive growth.
"The singular benefit from attending the institute is gaining a better understanding of how entrepreneurs relate to money concerns, especially with regards to investors," Hirshberg pointed out.
The seminar is geared toward entrepreneurs and business owners of small- to medium-sized companies, although those in nonprofit organizations and those still contemplating their concepts are invited as well.
"Certainly the ideal is to have an entrepreneur running a going concern and be in the thick of day-to-day operations. But for those participants who just have an idea and want to get a sense of what it means to run an entrepreneurial enterprise, the institute presents a spectacular forum," said Hirshberg.
Also on the agenda this year, six entrepreneurs will present their businesses as case studies to a panel of experts for detailed discussion and three others will be the focus of more brief commentary by the experts.
Co-creator of the institute is Michael Swack, dean of SNHU's School of Community Economic Development and a longtime friend and business associate of Hirshberg.
"The Stonyfield Institute presents an incredibly dynamic level of interaction for entrepreneurs of for-profit and nonprofit businesses," said Swack, who also will be one of the moderators. "One of the main points we hope participants come away with is that they don't have to reinvent the wheel. Many business owners have faced similar problems before when they were in the start-up phase and can offer good ideas to save current entrepreneurs time and money."