Stephen airs his Medicaid reform plan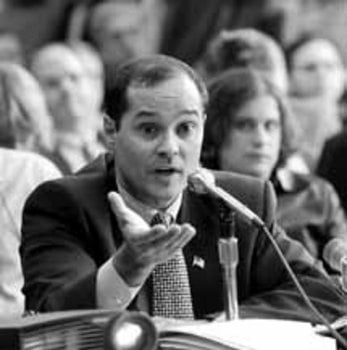 When it comes to dealing with the state's Medicaid program, doing nothing is not an option, according to Health and Human Services Commissioner John Stephen.
Stephen, in unveiling his long-awaited Medicaid reform plan Nov. 10, told lawmakers that the state currently spends about $800 million on Medicaid. The department calculates the costs will rise to nearly $2 billion by 2015.
"That is unsustainable," Stephen said.
The commissioner said he wants the federal government to let New Hampshire divert people who get subsidized care into cheaper alternatives than nursing homes.
The key element to saving money is a "gatekeeper" function used to integrate services and assess each person's need.
If approved, the state would strictly scrutinize people who elect to enter the more expensive nursing homes, even if they are still paying their own bills. Otherwise, people who might find adequate care in a less expensive setting could enter a nursing home, run out of money more quickly and apply for Medicaid.
"We're not talking about throwing people out of nursing homes," he said. "The door into a nursing home is too easy today."
Stephen asked the committee to let him begin negotiating major changes in the state's Medicaid program with federal authorities.
No changes will be made without both the public's input and legislative approval, he said. Ultimately, he also would need legislative approval since all the programs are tied to spending in his budget.
House Finance Chairman Neal Kurk said the committee would consider giving Stephen "conditional" authority at its Nov. 23 meeting to begin negotiating, although he won't be able to commit the state to any changes.
Kurk said final approval for any changes would come in the state budget that must be written in the next legislative session.
The proposal
Stephen proposes expanding the "lookback" period for reviewing whether people give away or otherwise attempt to shelter assets to qualify for Medicaid. He would expand the period for transfers to individuals that are below market value from three years to five years. The period for putting assets into trusts would jump from five years to 10 years.
The state would aggressively seek to recover assets that could have paid for the taxpayer subsidized care.
People who buy long-term care insurance in amounts set by the state would be able to protect a portion of their assets from Medicaid's requirement that they spend down before qualifying for subsidized help.
"Medicaid is supposed to be for the needy, not those who can find the best lawyer," Stephen said.
The proposal also encourages preventive care.
Medicaid recipients would be assigned a "medical home" or primary care doctor to monitor their care. Some would be given budgeted amounts to spend on prevention and non-emergency care. Doctors could waive the limits for patients with chronic illnesses, putting them into a catastrophic health care pool. Those who met certain health care goals and had a surplus in their accounts would keep some of the money.
Doctors who accepted more Medicaid patients and administered preventive care also would benefit from a boost in their reimbursement, said Stephen.
To increase the number of caregivers, the state would give welfare recipients up to four years of college tuition waivers for an equivalent time spent in the community in a health-care job.
The Medicaid reform plan was developed by Stephen and Gov. Craig Benson. Benson, however, lost in the Nov. 2 election to Democrat John Lynch, who throughout the campaign voiced his opposition to any Medicaid reform done without sufficient public comment.
"I continue to believe we ought to slow this process down," said Lynch after Stephen's legislative appearance.
For his part, Stephen admitted that the political landscape had changed regarding his Medicaid proposal, telling lawmakers, "At the end of the day, it doesn't do my department or the Legislature any good to seek changes that would not be supported later on."