State's transportation system is at a critical crossroads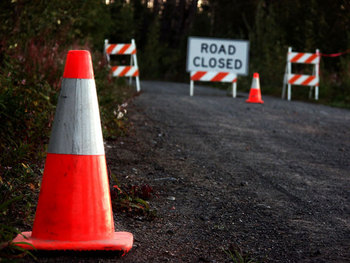 Every year, New Hampshire's roads absorb over 13 billion vehicle miles. By any standard, that's a lot of use, and it underscores just how much our lives depend on our infrastructure.
Yet, due to a worsening shortfall in funding, our roads and bridges are in trouble. Indeed, the future of New Hampshire's highways and bridges is at a crossroads. We can either continue to under-fund our highway maintenance/improvement program — and suffer the coming consequences — or we can adopt a responsible approach that emphasizes fixing problems promptly, before they become expensive crises.
Why now, you may ask. Haven't we always managed to get by just fine all these years by using a minimalist approach? Can't we put these repairs and improvements off for another couple of years? The short answer to these questions is that the highway program, after many years of scraping by with lowball funds, is finally at the tipping point, the point where it's only a short ride from "simple repair" to "major overhaul."
Roads wear out — slowly at first, then more rapidly as the pavement deteriorates from the combined elements of weathering, frost and traffic. Bridges, with their steel-and-concrete superstructures, are also affected by the same elements, and they are further affected by the salt used in ice control, which causes steel to corrode and concrete to degrade over time.
'Fifth worst' bridges
New Hampshire's highway system includes approximately 17,029 miles of public roadway. Of that total, 4,814 are maintained by the state, and 12,215 fall under the jurisdiction of local governments. An estimated 47 percent of the state-maintained highways are in substandard condition, with 780 miles of roads and highway surfaces designated as needing major work.
A desirable goal is to have 75 percent of major roads in good condition, but only 36 percent of New Hampshire's state-maintained roads are in good condition.
At the same time, 32 percent of New Hampshire's bridges are in below-standard condition. New Hampshire's municipally owned bridges were recently rated "fifth worst in the country" by Better Roads Magazine.
Not only are our roads deteriorating faster than we can fix them, they are also getting increasingly crowded. Nearly one quarter (24 percent) of New Hampshire's urban interstates and other highways or freeways are considered "congested," and that number is expected to rise. So too is truck freight, which every year handles the vast majority of an estimated $31 billion in goods shipped out from sites in New Hampshire, while an estimated $32 billion in goods is received at sites in New Hampshire.
In 1985, New Hampshire instituted its first 10-year highway plan, which provides a framework for the upkeep and new construction for all roads and bridges in the state. The plan provides a viable means for maintaining and upgrading the state's roads and bridges. However, for several years New Hampshire has had many more projects enrolled in the plan than projected revenue can possibly accommodate.
In fact, as an association, we performed our own financial review last year, which examined projected income and rising costs. Our study concluded that the plan is more than 37 percent under-funded.
The 10-year plan includes three main components: construction, engineering and rights-of-way acquisition. From 2007 through 2009, the total fluctuated from approximately $284 million to $287 million to $262 million. However, in 2010 the total skyrockets to $430 million, due mainly to the scheduled expansion of Interstate 93 from Manchester to the Massachusetts border.
In 2011, the program is expected to cool down to $280 million, but then climb sharply through 2014, when a $506 million price tag is projected, then falling, in relative terms, back to $418 million, and finally climbing slightly to $420 million in 2016.
A 'pipe dream'
The Legislature included the following caveat in the 2005-2014 plan: "The general court understands that the revenue projected for the plan period 2005-2014 is inadequate to fund all the projects in the plan. Without additional projects, it is estimated that with revenue increases at $5 million per year, the plan will take approximately 14 years to complete, excluding consideration of inflation on the cost of the projects… In passing the plan, it is the general court's intent to review the plan every 2 years … but not to add projects except for emergencies, until the funding is adequate to bring the plan within a projected 10-year completion framework."
The clause, "until the funding is adequate" is a classic example of wishful thinking, with a dash of understatement thrown in.
"Adequate" funding of the 10-year highway plan is only a pipe dream, at least under New Hampshire's current funding methods. Revenue to pay for the plan comes from the state's Highway Account, which receives funds from New Hampshire's gasoline tax (23 percent), federal funds (34 percent), motor vehicle registration fees (15 percent), and toll receipts (15 percent, but the funds are earmarked for the state's turnpikes), plus roughly 13 percent from other sources.
Clearly, New Hampshire needs more revenue to keep its highways and bridges from decaying further. Finding that revenue is no easy task.
Federal funds are fading. At the state level, turnpike tolls have not been increased since 1989. Another source of highway/bridge revenue is motor vehicle registrations, which have already increased appreciably in recent years. It is highly unlikely that registration costs will be increased again any time soon.
The 'best bet'
In light of all of these factors, the state gas tax remains the only real possibility for generating significant additional Highway Account revenue. Of course, just mentioning a tax increase is considered heresy in many circles.
But a closer look at the history and current status of New Hampshire's gas and diesel taxes puts things in perspective. For starters, New Hampshire's motor fuel taxes are the lowest in New England. Further, our state's last gas tax increase occurred in 1991, 15 years ago, when it was raised to 18 cents per gallon.
Had New Hampshire's gas tax been indexed to the consumer price index, the current tax would be approximately 24.8 cents, not 18. (By comparison, this would still be 2 cents lower than Maine's current fuel tax, which is indexed).
Not only is the state's gas tax rate seriously outdated, in 2006, for the first time in many years, revenue from motor fuel taxes did not increase, but actually decreased by $3 million, whereas it used to grow by roughly that amount each year. Indeed, a slight, continuing decline in fuel-tax revenue is indicated, at least in the short term, which directly erodes the bottom line of the Highway Account.
On the other hand, a 1-cent increase in the state's fuel tax, based on current usage, would generate approximately $8.5 million in gross revenues. Thus, a 6-cent per gallon increase, for example, would generate roughly $51 million, of which 12 percent would flow directly back to municipalities.
If one accepts the fact that our roads are in trouble and will have to be fixed at some point, then the concept of updating the state's gas tax makes extremely good sense. A gas/diesel tax is a prudent, "pay-as-you-go" source of revenue for road and bridge projects.
Borrowing by bonds, a common practice by the state, is interest-bearing and expensive, usually hiking the cost of a project anywhere from 20 to 50 percent.
The commonest response to any proposal that has "tax" in its title is a knee-jerk "No way!" But when viewed objectively, an increased gas tax is the best bet for bailing New Hampshire out of its worsening road-and-bridge dilemma. nhbr
Gary A. Abbott is executive vice president of the Associated General Contractors of New Hampshire, based in Bow.