State's newest Nordic ski area to open at Sugar Hill
Ski Hearth Farm will open for the 2014-15 season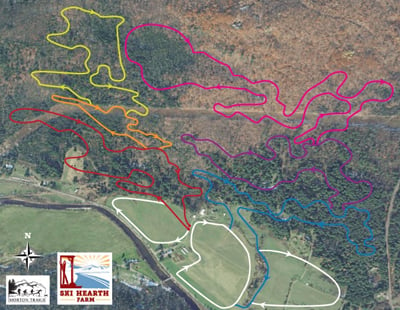 New Hampshire's newest cross-country ski area, Ski Hearth Farm, will open for the 2014-15 season at Sugar Hill.
Adjacent to Cannon Mountain Ski Area and the Lafayette Ridge of the White Mountains, the new area makes use of the historic buildings of what was New England ski area design pioneer Selden Hannah's 640-acre farm.
The area features 23 kilometers of trails for all abilities, designed by trail design firm Morton Trails. An additional 5 kilometers of trails are designated specifically for snowshoeing. In addition, a specially designed teaching area directly accessed from the base area has been developed for people to learn cross-country skiing.
Owned by Davis Mangold, Ski Hearth Farm operates in the summer and fall to produce a wide variety of organic vegetables.
Mangold invested nearly $750,000 in the area, including design and construction of the trails, modifications to the base facility, ski rental fleet, grooming operations and equipment.
Mangold said the farm has historic roots within the ski industry. Selden Hannah was a major influence on the development of the ski industry and founded Sno-Engineering, a firm that works on mountain resorts worldwide.