State plans to move DMV to Exit 6 Welcome Center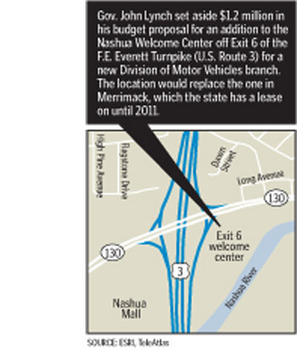 CONCORD – The state is moving forward with plans to build a new motor vehicle substation in Nashua to replace one in Merrimack.
The Merrimack site, however, will not close until the replacement location in Nashua is ready, state officials confirmed Monday.
"We have no intention of vacating the Merrimack facility until the Nashua location is available and operational," said Virginia Beecher, state director of the Division of Motor Vehicles.
The Merrimack substation in the Harris Pond Mall is where Nashua area residents obtain a renewed driver's license or, in the case of new drivers, take a test to receive their first license.
Residents also go there if they want to apply for a non-driver license identification card.
Gov. John Lynch proposed in his two-year public works budget spending $1.2 million for a DMV addition to the Welcome Center building that is off the F.E. Everett Turnpike in Nashua.
"Making improvements to the Nashua Welcome Center really provide an opportunity to one day locate a substation there," said Colin Manning, Lynch's press secretary,.
The state has leased the Merrimack space for 11 years.
The current lease is through the end of December 2011 and the state must give 30-day notice to cancel it.
Executive Councilor Debora Pignatelli, D-Nashua, has led the effort to move the substation from Merrimack to the Welcome Center property that is accessible from Broad Street and on state land just east of the turnpike.
"The Welcome Center is really under-utilized, and a city the size of Nashua should have its own substation," Pignatelli said during a telephone interview. "I've been assured that this is the Department of Safety's top priority."
The state has for years been looking for property in Nashua that could replace the Merrimack location, Safety Commissioner John Barthelmes said.
The Welcome Center in Nashua is one of two locations where residents board commuter buses to and from Boston.
State and local officials have endorsed plans to eventually have all Nashua bus riders board at the Park and Ride lot off Exit 8 in Nashua.
"My hope is that this move can be made for the substation to the Welcome Center can happen well before the lease runs out in Merrimack," Pignatelli said.
Once bus stop changes are made, Pignatelli said the Welcome Center would have plenty of parking for DMV licensing customers.
Meanwhile, Lynch is leaning on Safety Commissioner Barthelmes to close other DMV substations.
Earlier this month, state officials said cuts in Lynch's proposed budget could force substations in Rochester and Alton to close.
Barthelmes is fine-tuning the spending plan, according to Lynch spokesman Manning. Any substation closings would be timed with the Department of Safety's proposal to making renewed driver licensing available online.
"Those details are for Commissioner Barthlemes to work out," Manning said.
Online licensing would mean motorists would have to physically visit a state licensing station once every 10 years, Lynch said in his budget address last month.
"In the past year, the Department of Safety has worked to link almost every community electronically with the state for car registrations," Lynch explained, adding the new system to allow people to renew licenses online every five years should be in place by fall.
"As a result, most citizens will only need to visit a state motor vehicle office once every 10 years. These changes mean we do not need as many regional offices for motor vehicles, and this budget recommends closing several."