State office park named after Thomson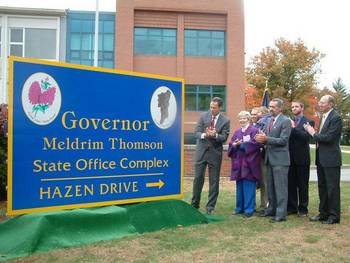 The all-star roster of current and former officeholders who showed up at State Office Park East on Hazen Drive in Concord included a former congressman, two speakers of the house, two governors and one all-purpose potentate.
"Governor Flynn, it's always a pleasure to see you," former U.S. Rep. Chuck Douglas said, recognizing Safety Commissioner Richard Flynn at the ceremony marking the dedication and renaming of the office park in honor of the late Gov. Meldrim Thomson, the chief executive who proposed building it in the early 1970s.
Former House Speaker Marshall Cobleigh was among those who spoke during the ceremony, which was held on a cold, overcast day.
He recalled that Thomson favored bringing government departments together at the 72-acre complex for a number of reasons, most notably that the state had been paying three quarters of a million dollars a year in rent in privately owned buildings in Concord.
"And he wasn't thrilled by the fact that a lot of his political enemies owned them," said Cobleigh, administrative assistant to the three-term governor (1973-78).
With his "Axe the Tax" campaign and his pledge to veto either a general sales or income tax, Thomson wrought a lasting change in the state's political agenda, Cobleigh said.
"Low taxes are the result of low spending," said Gov. Craig Benson, recalling one of the late governor's favorite sayings. Former Gov. Steve Merrill praised Thomson as one who demonstrated that "government could be improved without being more expensive and could be better without being bigger."
Gale Thomson spoke of her late husband's pride in the office park and in his service as governor. Asked after the ceremony what he might have said to the assembled dignitaries, Mrs. Thomson expressed the practical side of the controversial governor's mind.
"I think he would say, 'You'd better get inside, it's starting to get cold."