State launches online commercial real estate resource
'An essential tool for those interested in moving or expanding their businesses to New Hampshire'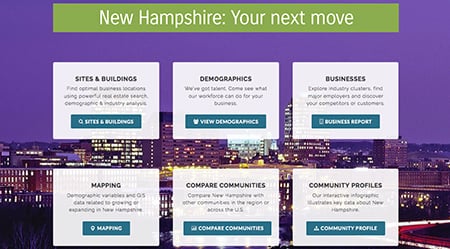 The NH Division of Economic Development has launched ChooseNH.com, a website that provides comprehensive data about commercial and industrial properties in the state to business owners, investors and site selectors.
The agency is working in partnership with the NH Commercial Investment Board of Realtors. Listings by NHCIBOR members automatically load to the site; non-members may learn how to upload their properties at a free training webinar from 3 to 4:30 p.m., Thursday, Sept. 15. (The webinar is free, but registration is required at http://blog.nheconomy.com/choosenh.)
In addition to the real estate information, the website is also a source for data such as community profiles, demographics and business analysis.
"This is an essential tool for those interested in moving or expanding their businesses to New Hampshire and we now join many other states that offer access to the information needed for strategic planning," said Carmen Lorentz, director of the Division of Economic Development. "Having this kind of information readily available in one place is critical for decision-makers mapping out the future of their business."
Representatives of municipalities with commercial real estate for sale or lease, as well as commercial property owners and commercial real estate agents who are not members of NH CIBOR should plan to enroll in the Sept. 15 webinar. It will explain how to upload property and how to use the site's other features.
For more information, contact Michael Bergeron or Cynthia Harrington, senior business development managers, at 603-271-2591.