State agency uses sports as an economic development tool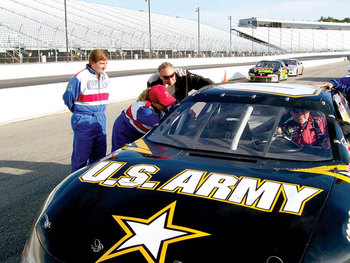 With the state's professional sports organizations having a growing economic impact on New Hampshire, the New Hampshire Business Resource Center is working to deliver its economic development message to their audiences of businesspeople.
The agency has developed a multi-faceted program that includes partnerships with all of the state's professional sports organizations as well as sponsorship of one of its most recognizable sports figures, former Red Sox relief pitcher Rich "El Guapo" Garces, now of the Nashua Pride.
"We're consistently looking for new and innovative ways to spread the word about the free services we offer New Hampshire business owners. This partnership with the Nashua Pride and Rich Garces has proven to be a great way of getting our message out," said Steve Boucher, communications manager for the New Hampshire Division of Economic Development, of which the NHBRC is a part. "This unique sponsorship — we believe the only one of its kind to link a professional athlete with a state agency — allows us to reach out to business leaders and the community in an entirely new way."
Community development is the focus of Team NH, another sports-related effort that the Business Resource Center helped spearhead. It's a charitable endeavor that unites the Manchester Monarchs, Manchester Wolves, Manchester Freedom, New Hampshire Fisher Cats, New Hampshire Phantoms, Nashua Pride, New England Dragway and the New Hampshire International Speedway with the NHBRC and Southern New Hampshire University in an effort to benefit the clients of the Manchester-based Moore Center, an agency that provides comprehensive services to clients with developmental disabilities.
Economic impact
No definitive study has been conducted as yet on the economic impact of professional sports on New Hampshire's economy, but consider that the NCAA Regional Hockey Tournament hosted by the University of New Hampshire and played at the Verizon Wireless Arena March 24-25 generated more than $1.3 million in direct economic activity.
The arena, which has been called an economic engine for the region, generated $31 million in direct spending in one year alone.
Even more impressive is that every Nextel Cup race hosted by New Hampshire International Speedway has outdrawn that year's Super Bowl. Ron Meade, director of new projects at NHIS, points out, "We've seen a great influx of CEOs and corporate decision-makers who've never been to New Hampshire before. Thanks to our relationship with the state, we're able to put New Hampshire's economic development message before that audience."
Roy Duddy, NHBRC's executive director, calls NHIS "a wonderful partner for us. Those stepping out of the elevators to go to the corporate suites are presented with our message that New Hampshire is a great place to do business. We couldn't pay for that type of exposure to top businesspeople from around the country and the world."
NHIS also was key to a highly successful familiarization tour that the Business Resource Center put on for site selectors — real estate professionals and consultants who assist companies in choosing expansion and relocation sites for their businesses. In addition to learning more about the types of business and industrial sites the state has and what it offers businesses, the site selectors met with Gov. John Lynch, NHBRC staff and partners, and took part in the Richard Petty Driving School at NHIS.
"Economic development is all about relationships and building trust," said John DiNapoli, a recruitment and retention specialist with the NHBRC. "This type of promotion, which was paid for by non-taxpayer dollars, is invaluable, as it enables us to interact one-on-one with key decision-makers and influencers. It's the type of event that they'll still be talking about years later."
Does partnering with sports teams mean that the NHBRC is primarily interested in reaching men? Nothing could be further from the truth, according to Boucher. "You just need to look at the demographics of the fans. In every case, the teams and venues are family-oriented. Take, for instance, NASCAR – 46 percent of its fans are women."
The Manchester Wolves' director of corporate operations, Stephanie Bike, also sees sports as a highly effective way to reach women. "Women are playing more sports, and that carries over into an interest in pro sports. We've seen this in overall attendance by women and their participation in our business appreciation nights."
At these nights, businesspeople are able to network with Business Resource Center staff and other professionals, and get down onto the field to meet the players and Wolves staff.
Boucher points to research released in April 2006 by The Media Audit, which found that southern New Hampshire is second in the top 10 U.S. markets with the highest percentages of affluent working women – 13 percent.
"Being able to reach them on a one-to-one basis during their leisure time is huge," said Boucher. "It gives us a chance to find out what kind of help their business needs and to talk about the services we offer."
The NHBRC also will be reaching out to the Hispanic community at Latino Business/Community Leaders Night, a promotion with El Guapo and the Nashua Pride, slated to be held Sept. 2 at Holman.
"While U.S. Census figures show that only 2.2 percent of New Hampshire's population is Hispanic, 7.9 percent of Massachusetts is Hispanic, and El Guapo provides us with an entree into that community," Boucher said.
The sponsorship deal with El Guapo and the Nashua Pride has been integrated into the agency's Web site, nheconomy.com, which contains a weekly feature entitled "El Guapo's Top Ten List" that highlights recent happenings in Granite State business and community news, an "El Guapo Trivia Contest," and a biweekly "Where's Guapo?" feature, which tests visitors' knowledge of New Hampshire's many state parks.
And what does El Guapo think of this unusual sponsorship? "I'm happy about being able to tell other people about why I love it here and to spread the word about all of the great things happening in New Hampshire," he said.
For more information, contact Boucher at 271-7581 or visit nheconomy.com.
This article was provided by the New Hampshire Business Resource Center.