Stars come out inside for Hanukkah celebration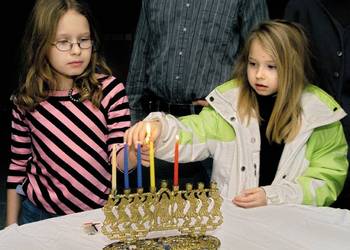 NASHUA – Judah Maccabee would have approved Temple Beth Abraham's decision to intensify the lights of Hanukkah.
The synagogue celebrated the holiday Saturday evening by complementing annual traditions with a unique glimpse of the stars. Temple leaders knew they couldn't exactly bring the heavens inside, so they employed a skylab to emphasize God's radiance.
Having quickly munched some potato pancakes, children waited patiently in a Disneyworld-like line to sit inside the inflatable dome. Christa McAuliffe Planetarium provided the lab, and many children and some parents enjoyed a professional tour of the universe.
"It's the highlight of the year for children," temple president Carol Gorelick said of Hanukkah.
But adults also benefit from the holiday, especially so during a gathering such as the one at the Nashua temple.
Jews commemorate most of Hanukkah's eight days within the confines of home, marking each stage in the evening with family. This event, though, brought local Jewish families together.
Adults shared stories, commented on current events and encouraged their children to eat and have fun. Some parents even tolerated the long line of the skylab to join their kids.
The evening started with a solemn Havdalah observation. Havdalah is a brief ceremony that marks the end of the Sabbath, the Jewish day of rest. It includes Kosher wine, a fragrant spice and a special candle.Celebrants then moved to a dining hall, where they lit Hanukkah candles to mark the fifth night of the holiday.
Hanukkah celebrates the victory of the heroic band of Jews led by Judah Maccabee over the forces of the Syrian King Antiochos IV.
After reclaiming the temple, there was only enough oil to burn the lamps for one day, but instead the lights burned for eight days.
"It's about perseverance, and faith, and a trust God will provide," said Stan Juda. "There are miracles."
It was a minor miracle the food lasted. Meats, latkes, potato pancakes and applesauce were enjoyed by many.