St. Joseph chief prepares to retire after 25 years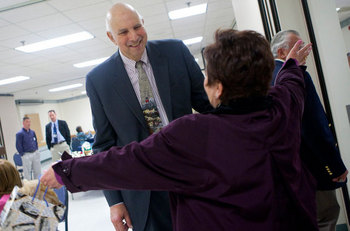 He calls himself "just the caretaker" whose goal was to make sure St. Joseph Hospital "would be ready for another successful 100 years."But to everyone attending his retirement party late last month, Peter B. Davis is the main reason the facility has grown "from the little hospital on the hill" to one of New England's premier medical centers.Peter Davis, who turns 65 in June, recently announced he is retiring, effective in July, after 25 full and eventful years as St. Joseph Hospital's administrator. But rather than wait until the middle of golf season and risk a conflict with his beloved game, his fellow employees picked April 28 to celebrate their boss's quarter-century of accomplishments.As he winds up his career, Davis has largely turned his attention to a new challenge: battling lung cancer."I feel pretty good most of the time," he said between handshakes and hugs of congratulations. "My energy is up and down … Hey, I played golf the other day. I didn't walk, but I was out there."Davis is currently undergoing chemotherapy, which appears to be going well, he said. "It seems like the drugs are working," he said, adding with his customary, warm smile, "I'm back here tomorrow for another cocktail."Door always openBeginning around mid-afternoon April 28, the boatload of friends and associates Davis has met over the years lined up with hospital employees from housekeepers to physicians to board members for a moment with Davis."He's a fabulous, fabulous person," veteran board member and current treasurer Chris Rogers said. "Peter's been the key to what we've accomplished over the years."Sandy Pelletier, chief executive and president of Nashua-based social services agency Gateways Community Services, said Davis was one of her earliest and longest supporters, beginning "way back when I had this little nonprofit," she said. "Every time I've asked for assistance, Peter's been there for us," she said of the agency. "He always had his door open."Jim McKenna, St. Joseph's vice president of outpatient services, agreed. "Peter's a great guy, just a great guy," said McKenna, who joined the hospital staff in 1986, a year after Davis came on board."The thing about Peter is, he cares so much for the employees and the patients," McKenna said. "He always said, 'As long as the employees and patients are OK, the rest will take care of itself.' He never swayed from that mission."During a brief speaking program, Rogers, the board treasurer, called Davis "a true leader and a very good man" who "set the tone to continue the mission that the Grey Nuns started a century ago."Rogers referred to the hospital's founders, the Grey Nuns of Montreal. "The first nuns who worked here would be extremely proud to see where we are today," he said. "The past 25 years have been very challenging for (the hospital industry), and thank God Peter was here to lead us."In the late 1960s, Davis was a student at the University of Pittsburgh where, at a towering 6 feet, 9 inches tall, he starred on the basketball court. Among his favorite Pitt hoop memories is playing against a budding superstar named Lew Alcindor, the UCLA center later known as the legendary NBA force Kareem Abdul-Jabbar.One day, a cousin, who worked in the then-fledgling health-care industry, asked Davis about his plans."I told her, 'I don't know, maybe a doctor, or a lawyer,'" Davis said. "She asked if I'd thought about going into hospital administration. I said, 'What's that?'" he added with a laugh.But he took the advice, eventually landing assistant administrative slots at the old Boston University Medical Center and the former Union Hospital in Lynn. Then one day, he said, a "headhunter called saying a 'group of nuns up in Nashua is looking for someone like you.'""I said, 'You sure you got the right Peter Davis? What would they want with me? I'm Jewish,'" he said, flashing, again, his huge grin.
Dr. Roger Dionne, a longtime city physician who was on the search committee that hired Davis, recalled sifting through "tons of resumes" hoping to find a candidate who would match the local medical community's goal of forming a health care system.
"This guy looked pretty good," Dionne said, gesturing toward Davis, who sat alongside the podium with his wife Donna. "So we hired him, looking to get maybe five years out of him.
"But it took him 25 years," Dionne quipped to a roomful of laughter.
Dionne, whose practice turned out to be the newly created system's first acquisition, warned listeners to stay away from Davis on the tennis court.
"You ever played with him? I have. It's like going up against a windmill," he said to more laughter.
A quarter-century after he followed up that "headhunter's" tip, Davis clearly has no regrets.
"I'm so proud of all of you," he said, looking around the Carl Amelio Room, named after another of Davis' longtime associates and friends. "Today, because of you, we're doing things we never thought possible even 15, 20 years ago," he said, growing a bit emotional as he spoke.
"It's been a great ride. We've had many successes here," he said. "But I've only been the caretaker." — DEAN SHALHOUP/THE TELEGRAPH