SpotOn Virtual Smart Fence named Product of the Year
New Hampshire Tech Alliance crowns Bedford firm's dog safety system top 2019 innovation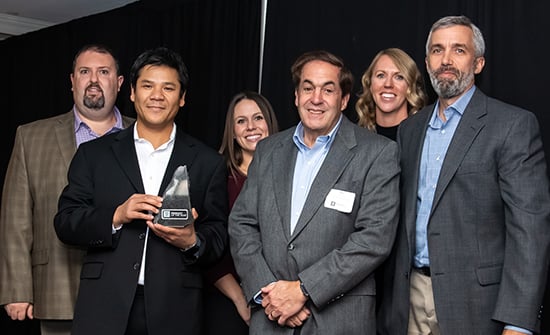 The SpotOn Virtual Smart Fence, created by OnPoint Systems of Bedford, has been named the 2019 Product of the Year by the New Hampshire Tech Alliance.
Through a combination of audience voting and expert judging, the SpotOn product was the preferred choice of the judges and audience members at the annual Product of the Year event, held Oct. 24 in Manchester. They had to choose among the five finalists that exhibited and pitched their innovations.
The Virtual Smart Fence is a dog safety system that integrates perimeter containment capabilities and tracking systems without the need for buried wires or base stations and professional installation. To ensure the dog stays safely within the programmed boundaries, the collar provides a series of audio warnings followed by an optional static correction. The system is nationally recognized by trainers and pet experts as effective and humane.
OnPoint was founded by Ken Solinsky, who won the alliance's Entrepreneur of the Year award in 2006.
"There is a tremendous workforce in this state, ranging from high-tech Ph.D. candidates to the workers on the production floor that put products together day in and day out. This is a tremendous state to do business in and we're just proud to be here in New Hampshire and contributing to the economy," Solinsky said.
The other 2019 Product of the Year finalists were: Enviro-WallCover from LDI Solutions; SitePortal Remote Monitoring from C Squared Systems; the MAV3K from Waypoint Robotics; and the Radiance Awareness Suite from Radianse.
As winner of this year's competition, OnPoint will have its company name engraved on the Tech Alliance's hand-cut crystal trophy, which is on display at the Manchester-Boston Regional Airport.
Sponsors of the 14th annual Product of the Year event included Connection, Autodesk, Q7, Cook, Little, Rosenblatt & Manson, Dartmouth Hitchcock, BerryDunn, Cirtronics, Cross Insurance, Hanover Insurance, Paragon Digital Marketing, People's United Bank, Sheehan Phinney, Single Digits, Inc., Colliers International, Robert Half, Sunrise Labs, and Wipfli/Howe Riley Howe. Media sponsors were Manchester Radio Group and NH Business Review.