Sox fans don't leave anything to chance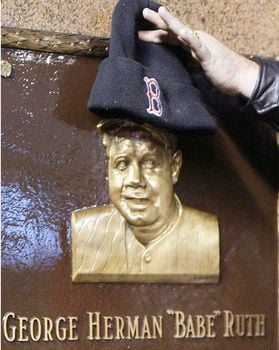 We believe in the Sox – at least we do now. But what did fans put stock in as the local nine climbed out of a hole larger than the Bronx?
Apparently some depended upon an otherworldly device that, despite its irrational foundation, now seems to them as sound as Curt Schilling's guts: superstition.
Dirty socks, uncomfortable chairs, crossed legs and beer all factored into the Red Sox' glorious run against the New York Yankees. Certainly the players put bat and glove on ball, but these fans think their idiosyncratic behavior somehow influenced the greatest comeback of all time.
Kristin Wardner belongs to this club. She wore an ordinary Red Sox jersey during the first three painful losses, but switched to a Bill Mueller shirt before Game 4, Boston's first win of the series. Her husband also changed his top before the turnaround.
"We're deciding if we should wash them before the World Series," Wardner said.
Any self-respecting realist will discount superstition more forcefully than Alex Rodriguez slapped Bronson Arroyo's glove. They point to how unempirical and half-baked the whole thing is.
Sitting in your uncle's old coffee-stained recliner with the kitchen light on, your loved one in the other room and the window half open does not sway ballgames, pragmatists argue.
But that doesn't stop sports fans – especially psychologically battered Sox fans – from investing in anything that works, anything that can get Derek Lowe to stand straight and work that slippery sinker.
"I drank a lot," Sarah Hafley said of her recent power on the Sox.
Hafley intends to follow suit during each game of the World Series, even if it means that she'll "pay for it the next day."
Her boyfriend dons batting gloves for big games. His trick obviously affected the outcome of Game 4. He sat in the stands, gloves on, no matter how foolish his appearance.
Marissa Lombardi didn't wear her hat for that game, and decided to do without it for the remainder of the series. Her plan now is to stay hatless. If the Sox lose a game, she'll reconsider her strategy, as will countless others who have come to embrace their own practices.
Even little 16-month-old Nicholas Tristan wore his Red Sox hat backward to school. Anything to help the cause, his father said.
So does it really work?
"It's got to," said Nashua resident Brian Stubbs, who in April watched Sox telecasts with blue pants and red socks. For the playoffs, he "stepped up" and donned not "just any red shirt but the thinnest one possible."
His cousin Scott Gagnon figured out after the Game 4 victory that watching the first seven innings at a friend's house and then quickly returning home for the remainder would work wonders for the last three games. No one had to tell him to stick to this pattern.
"He just knew," Stubbs said.
Stubbs' friend Jay Harned represents the other half, the unlucky bunch whose routines have failed. Usually Red Sox fans land hard on this side of the fence, but Yankees fans such as Harned now have to reconsider their habits. Harned has already decided to burn his A-Rod jersey.
Many, of course, scoff at resorting to such rites. They contend that only the players involved can decide a game's outcome.
"We used to be superstitious, but we're a practical culture," Nashua resident Alex Carrigan said of his Australian homeland.
A native of Goondiwindi, a rural community that sits near the Queensland and New South Wales border, Carrigan can see how Red Sox fans need to latch onto rituals when the game's on the line. Even though Australians have discounted superstitions, they lurk in the background, tempting all, he said.
An Australian football team had its own Bambino curse in the form of a fan who was removed from the season ticket list, Carrigan said. The fan put a hex on the club, and it fell into a funk. The club convinced the fan to appear on national television and remove the jinx; sure enough, the team won again.
The flip side to this fan-driven hocus-pocus is the investment in a higher power. Fans, after all, do pray to God, hoping the omniscient one will bend a knuckleball or put a hole in an opponent's glove.
God did not immediately return phone calls, so this reporter reached out to his delegates.
"I never pray about sports. I don't think it works," said the Rev. Andy Cryans, pastor of St. Patrick Church in Milford.
The Rev. Robert Odierna, rector of the Church of the Good Shepherd in Nashua, agreed, but he finds that a few Our Fathers don't exactly hurt.
"The belief that God is on each other's side, while very false, is very comforting," Odierna said. "It sort of adds to the ability to continue on, and have faith in the face of difficulty."
Now, readers should consider that aside from possessing sound theological insight, these two clerics have until this week never had their faith tested: They're Yankees fans.