Something for new rivals to feast on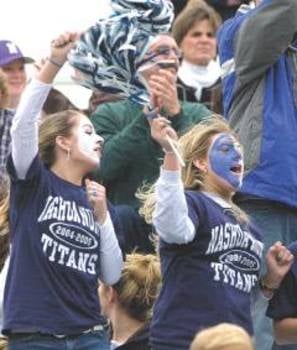 Maybe a football program was born at Stellos Stadium on Thanksgiving morning.
We know a rivalry was.
Is there any member of the Nashua High School South football team that can't wait until next season to get another crack at the North Titans and avenge Thursday's stunning 33-14 beating?
Doubt it.
"Oh yeah," Nashua South coach Scott Knight said. "Now the rivalry is official. It's a one-game-to-one series, and now it can get interesting, you know?"
Yeah, you can bet the Panthers will remember the Titans. They'll remember another seemingly bizarre day at Stellos Stadium between the two high school squads, which opened the season Sept. 3, with South notching a 17-13 win.
"There was a lot of that today, too," Knight said. "This game was not unlike the first game of the season, where we kind of surprised them . . ."
The Titans played old-fashioned rock 'em, sock 'em football in front of a crowd of just under 3,000. North essentially started from scratch, and through the first 10 games of the season had only one win, a 41-0 victory over Trinity of Manchester.
But Thursday morning's run-oriented attack – the Titans didn't attempt a single pass – certainly produced the biggest win of the year in the final game of the year.
"Today was a good start," Titans coach Jason Robie said. "This was a big win for our school, for our community. . . . As far as a program being born, the program was born months ago. But we're going to be OK. We're going to be OK."
So will the future of this rivalry. The unseasonably warm temperatures and dark morning skies gave the game a strange feeling. Thanksgiving Day football games are as much for alumni as they are for the current student body, and one prominent Nashua alum just didn't know how to act for this game.
"I didn't know who to root for," said U.S. Olympian Laura Gerraughty, who was honored prior to the game and also took part in the ceremonial coin toss. "I would have been a Titan for my last two years because I moved. But I graduated from what I guess would be South. I don't know. It was Nashua High. Go Nashua."
Seniors on both teams were introduced prior to the start of the game. That's not uncommon. But after the introductions, they all mingled and shared greetings at the middle of the field.
"It was great to see some old faces," South senior lineman Dustin Gagnon said. "New faces. It was just great to face off against another team. We can create a new rivalry . . . . It's going to get it going a lot more."
North senior running back Bill Monsen, who scored one of the team's five touchdowns on the day, can't wait to return as a Titan alum.
"I love the coaches on both sides," he said. "But (an alumni base) is what we're trying to get now. We're going to be the first guys (the current seniors) to come back."
Adding to the emotions of the day was the cloud that hung over the Panthers' heads.
Senior Brandon Lilley's stepbrother, Nick Jennings of Hollis, had been killed late last weekend in an automobile accident. Jennings knew a lot of the players on the team, many of whom had attended his funeral on Wednesday before going to their final football practice of the season.
"We had some emotional things this week in our program," Knight said. "We thought we were going to play an emotional game, but I wasn't sure we could overcome all that."
"We knew it was difficult for them," Robie said. "Those are our kids over there, too."
Junior running back Paul Callery, who scored two touchdowns for South and ran for 121 yards, stood with a blank look on his face afterward, the emotion of the day seemingly taking hold. "I can't talk right now," he said.
South running back Josh Prevost was playing his last football game ever. He won't play in college, and this certainly wasn't the way he wanted his career to end.
"I'm going to miss it," he said. "A lot of emotion. . . . (The rivalry) was born the first game, but it was more important for (the Titans) to win, because if we came out (this year) and beat them twice, it would have been more of a loss for them.
"There was more intensity (than opening night). It was more important to win this game, but since we didn't, it hurts a little bit. We played our hearts out. There isn't anything we can do."
Nashua North's Lance Bisson is also a senior, playing in his last high school game. But the difference was, he only played football this season. "I wish I had three more years," he said after rushing for 144 yards and one touchdown, a 77-yard run on the game's third play from scrimmage. North's offensive line, keyed by Tyson Forsaith, Sean Clair, Chris Chassieur, Ben Frelin, Matt Kelley and Dave Duran, paved the way for a whopping 345 yards on the ground.
The coaches from both teams got together at 6 a.m. at a local eatery for breakfast. "It was good to see those guys," Robie said of friends on the other team he had coached with for years. "But you could feel there was a little bit of tension, certainly. . . . But they're my friends. We knew it was going to be an awkward feeling, no matter which side of the ball we were on today.
"This is going to be a very intense rivalry – and clean, fun rivalry."
As it was, it was a big Titans win, and a big day for the new North-South football rivalry, which – much to the chagrin of some and joy to others – replaces the unified Nashua-Bishop Guertin game.
"It's still Thanksgiving morning, still a lot of people here," Knight said. "Just the color on the other side of the field was different."
Under dark skies, there was still plenty of color at Stellos Stadium on Thursday. And you can bet there will be for many Thanksgivings to come.
"There was a lot more build up to it," Monsen said. "For both teams, the Turkey Bowl means more because of the tradition behind it and the tradition we're starting."