Soldiers turn images into words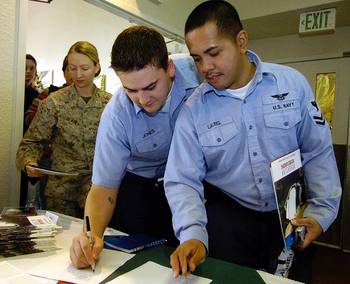 From Mosul, Iraq, soldier Ryan Alexander wrote a poem about a pregnant cat, "a happy distraction" that he fed from prepackaged military meals. Ignoring warnings from medics, Alexander put on a plastic glove and petted the wild creature, "who may be the one true heart and mind that America had won over."
Back home in Colorado Springs, Colo., Melissa Herman imagined what her reaction would have been had her Army husband been aboard a helicopter that crashed in Iraq.
"I can feel the devastation and hurt of knowing that I am alone," she wrote. "I feel trapped in a tornado: screaming, crying, angry then numb."
Earlier this year, the National Endowment for the Arts asked U.S. soldiers and their families to write down what they saw, heard and felt during the war for a program called "Operation Homecoming." Some 400 pieces of wartime writing have reached the NEA since April, and thousands more are expected.
The reflections compiled to date offer a poignant glimpse into soldiers' lives and how they are affected by war.
"There's no voice more authentic or captivating than those who are on the front lines," said Andrew Carroll, who is editing the best submissions into an anthology that will be published in 2006.
The program has brought top-notch writers – including Tom Clancy, James McBride and Bobbie Ann Mason – to military bases across the country. Wednesday's stop at a Navy base in Coronado, Calif., included Mark Bowden, whose book, "Black Hawk Down," chronicled the frenzied firefight that enveloped U.S. special forces on the streets of Mogadishu, Somalia.
Bowden told a room of sailors and Marines that writing down their experiences can be good therapy. "It's good for the soul," he said.
The results so far are both raw and compelling. The NEA provided several samples to The Associated Press and the program's director, John Parrish Peede, described others.
A musician with a Marine band wrote about how hard it was to keep up bandmembers' morale in the wilting 120-degree heat. A lieutenant colonel described escorting a servicemember's body back home. A member of a Navy construction battalion described how the sand kept clogging the gears of his bulldozer.
Army Sgt. Michael Thomas wrote of choking back tears when his unit returned from Iraq and received a 3 a.m. greeting from elderly veterans for their long-delayed homecoming at an airport in Maine.
"Their now-feeble right arms stiffened in salutes, their left hands holding coffee, snacks and cell phones for us," Thomas wrote.
Army Capt. Jim Sosnicky of Castle Rock, Colo., wrote about Mariam, a 28-year-old Iraqi woman who sold cigarettes to Americans from a dusty shop in the heavily fortified Green Zone, home to the U.S. Embassy and headquarters of the U.S.-sponsored interim government in downtown Baghdad.
When an explosion boomed in the distance, Sosnicky asked Mariam what she thought: car bomb or mortar round? Definitely a mortar round, she told him.
"Most girls in the U.S. have a tin ear for such things," Sosnicky wrote.
Operation Homecoming, most of which is supported by a $500,000 budget from Boeing Co., has found some soldiers bursting with literary thoughts. Peede said he picked up the phone in his office in Washington, D.C. and listened to a soldier in Iraq read a poem over the crackling static on a satellite phone.
After attending an Operation Homecoming workshop in Nebraska, Lt. Col. Christopher Cohoes of Elkhorn, Neb., submitted two letters he wrote in Iraq to his young children. One captured his thoughts when every light in the cockpit went out in mid-flight.
"It is a full moon tonight, but I still needed a flashlight to see in the cockpit," he wrote. "The first thing I thought after making sure the engines still worked was what you would've said, Cavan, had you been there. 'Hey dad, the lights went out.' I started laughing. Then I got most of my lights back and came back to base."