Solar energy panels installed at Hooksett Welcome Centers
122-kilowatt array to offset 10% of facilities' energy use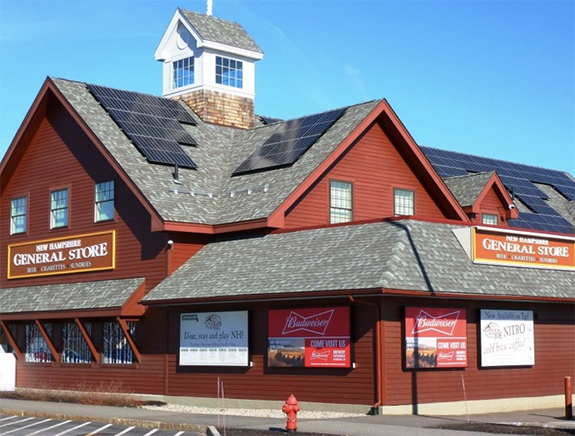 The Common Man Roadsides at the Hooksett Welcome Centers on Interstate 93 are now being powered in part by the sun, thanks to a recently completed project funded by Granite State Hospitality LLC, which operates the facilities in a long-term lease agreement with the State of New Hampshire.
A total of 388 solar panels have been installed on the rooftops of both the northbound and southbound facilities. The 122-kilowatt array (the combined total of both northbound and southbound) is expected to produce upwards of 137,000 kilowatt-hours of clean electricity a year, enough to offset approximately 10% of the facilities' annual energy use.
Contractor for the solar energy project was ReVision Energy of Brentwood.
The multiple roof surfaces and pitches of the highly visible Hooksett Welcome Centers required a more complex design that would not only maximize electricity production, but also fit with the aesthetics of the buildings.
In addition to the projected energy cost savings, Brad Pernaw, managing partner of Granite State Hospitality, said the company wanted to do its part for sustainability in New Hampshire. The solar power generated at the Hooksett Welcome Centers is expected to keep more than 145,000 pounds of carbon out of the atmosphere annually.
"We had a chance to do something that was better for the environment," Pernaw said. "We are always looking at how things are going and how we can improve our business."