Software firm electrifies job estimating market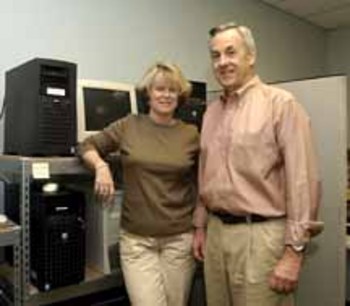 A chance conversation nearly 20 years ago led former electrical contractor and professional estimator Bedford electrician George Hague to stop complaining and do something about what he saw as the inadequate resources for estimating job costs in his industry.
His decision gave rise to ConEst Software Systems, now located on Harvey Road in Manchester — a firm that has made a name for itself for its line of software designed to improve the accuracy of electrical job estimates and decrease the manual labor demands typically associated with the process.
Hague's ongoing commitment to clients, the people he employs and the communities he serves have not only contributed to the success of ConEst Software System, it also has earned the company recognition as Citizens Bank's Not Your Typical Business award recipient for October.
"They are known to be very pro-colleague and concerned about their employees. It's like a family," said Nicole Poirier, assistant branch manager for Citizens Bank in Londonderry. "The ownership is very responsive."
Established in 1989 with the introduction of its first estimating product, ConEst now boasts an entire suite of software designed to help electrical contractors with everything from generating estimates and calculating electrical requirements and formulas to keeping the bidding and billing process organized.
In addition, technical support is always a phone call away for customers throughout the United States and Canada and as far away as Australia.
"We try to do more than the customer expects," said Hague, a regular contributor to national trade publications, including Electrical Contractor Magazine, Electrical Products and Services and Electrical Contracting Products. "We pride ourselves on the fact that 90 percent of incoming customer calls are answered, addressed and resolved on the first inbound call, and our average response time if customers do have to leave a message is less than 20 minutes."
'Cream of the crop'
Not surprisingly, Hague takes pride not only in the service his firm provides, but the product too.
"Our software outshines any product on the market," said Hague who was working as an electrical estimator himself when he decided to design his own software. "Ask anyone and they'll tell you the same thing."
Hague's confidence in his software stems from the years he spent drafting job estimates for clients using existing software. The process, he said, was cumbersome and prone to inaccuracies.
"I had run a number of these programs and had seen the pros and cons of many of them," said Hague. The festering frustration finally manifested in a 10-minute rant to a stranger who just happened to be a computer programmer and the person who eventually translated Hague's electrical knowledge into his computerized estimating system.
More than 15 years later, Hague's current team includes his vice president, Jan Thayer, and 19 other employees, most of whom have worked at ConEst for more than five years. The company also employs independent sales reps located in various regions across the US as well as in Canada and Australia. "We try to maintain a relaxed atmosphere here. We're not as structured as some companies," said Thayer. "We have a great bunch — it's really the cream of the crop."
"We try to maintain a relaxed atmosphere here. We're not as structured as some companies," said Thayer. "We have a great bunch — it's really the cream of the crop."
"We have a small-company feel here. It's like a family and you feel as if they're interested in you as a person," said Betsey Mechachonis, the company's director of technical publications . "Everybody here pitches in when something needs to be done — titles aren't important."
The company also prides itself on its flexibility and on the benefits it's able to provide, which includes full medical coverage and flexible hours for working parents.
Taking a good idea and transforming it into a thriving business is a challenge in any industry. Doing it in an industry with a limited customer base can add to that challenge – but it is just what Hague has done.
While government statistics show 106,000 electrical companies in the United States, ConEst Software System's market is half that, consisting of small, medium and large contractors.
"We work with a tiny vertical market, and our price is higher because of that," said Hague, referring to the $3,500 systems he sells. "But our products can cut a contractor's time by three-quarters. And added to the time factor is accuracy."
Despite the limited market, ConEst Software Systems will bypass $2 million in sales this year, Hague said.
Despite the demands of company ownership, ConEst does what it can to support charities in need. Most recently the company and its employees provided financial assistance to a Gulf Coast customer who supplied housing for a number of families left homeless by Hurricane Katrina. The company also supports local fire and police departments. And when it comes to business, ConEst works hard to use New Hampshire vendors whenever possible.
"We're doing what we can to keep our business in New Hampshire. That's always been important for us," Thayer said. "These companies help keep the state healthy."