Social media sparkler
Keene marketer Peg Fitzpatrick's savvy lures clients that include tech 'evangelist' Guy Kawasaki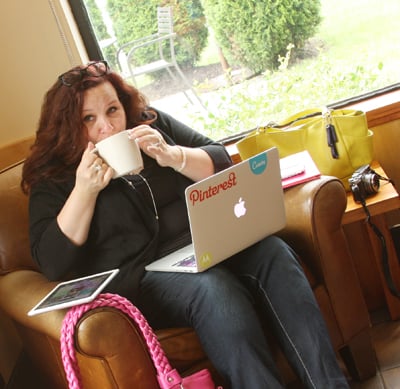 Blogger, author and social media marketer Peg Fitzpatrick of Keene has created a brand that extends far beyond the borders of New Hampshire.
Using social media savvy – and a little bit of chutzpah – Fitzpatrick used Twitter and a virtual book club to land her most famous client: Guy Kawasaki, author, international thought leader and chief evangelist to such companies as Google and Apple.
Fitzpatrick is a self-described social media "spark" who got involved in the digital realm right around the time the words "tweet" and "post" became part of our daily lexicon. Her social media success – she has more than 300,000 followers on Google+, her favorite online platform – illustrates how businesses can compete globally, no matter where they're located, as well as the power of social media connections.
"For me, social media is a culmination of jobs I've had over the years," Fitzpatrick says. "There are so many intricacies to it, and I've learned a lot while doing it."
Outgoing and enthusiastic, Fitzpatrick is a master multi-tasker. In addition to being Kawasaki's assistant, she maintains her own blog and marketing site at pegfitzpatrick.com, manages social strategy for Canva.com, an online graphic design service (Kawasaki is chief evangelist of the company) and is director of marketing and social media manager for Kreussler Inc., a German textile chemistry and pharmaceutical company.
In her spare time, she's editor of 12Most.com, an online compilation of marketing and business content by writers and industry experts, and is moderator/community manager to multiple Google+ and Facebook communities.
"I've always been willing to jump in and try new things," she says. "I have lots of ideas. Social media is good for me because I wake up and start making things happen."
Originally from upstate New York, Fitzpatrick graduated from Keene State College, majoring in English education. A performer at heart – she sang and acted in high school theatrical productions – she balanced a marketing career while raising three children, connecting with Kreussler through her husband, an executive for the company. She began experimenting with social media – primarily Facebook – four years ago. Recognizing its potential to help businesses connect personally with their customers, she recommended Facebook strategies to Kreussler and her career in social media was established.
In the meantime, Fitzpatrick steadily developed a personal social media presence, combining her Facebook knowledge with Twitter expertise. "It was challenging at the beginning," she admits. "I built my own social media presence and I made a point of really digging deep in how to use all the different platforms."
No small task
Kawasaki and Fitzpatrick connected through Twitter. Fitzpatrick founded and moderates #MyBookClub (mybookclub2.com), a popular social media book club on Twitter. She invited Kawasaki to tweet about his book, "Enchantment." He happily agreed, and the two clicked.
He began sending Fitzpatrick excerpts of other books he was writing, including "APE: Author, Publisher, Entrepreneur—How to Publish a Book" and "What the Plus! Google+ for the Rest of Us," asking for comments and editing help.
Then, two years ago, without meeting her in person, Kawasaki hired Fitzpatrick to be his social media architect.
It's no small task. "I do all of Guy's social strategy," Fitzpatrick says. "He's a fly-by-the-seat-of-his-pants type of guy, so I implement all the structure and foundation."
Thanks to Fitzpatrick, Kawasaki now has 6 million followers across his social media platforms, with more than a million followers on Twitter alone. Despite a schedule that's taken them around the world, Kawasaki and Fitzpatrick work primarily through email, Dropbox or phone. Fitzpatrick also is co-author of Kawasaki's newest book, "The Art of Social Media."
To stay on top of her various social media responsibilities, Fitzpatrick plans her week in advance. She uses Buffer to organize and distribute content and photos; she posts live on Google+ and Twitter based on new articles or items she reads daily. She publishes three posts a week on Canva.
"I don't have a staff, I do everything myself," Fitzpatrick says. "I know what I need to do and I just do it."
Like other successful entrepreneurs, Fitzpatrick attributes her success to a willingness to learn and work hard. "I have the best job in the world because I made it happen," she says. "Who knew there was a job where you could travel around the world and write things?"
Fitzpatrick's small business social media advice
• It's important for small businesses to be on social media.
• Find out which social media platform works for your business. Facebook is a great way to connect with your community and customers and create a brand presence. Google+ is Google, so content you post there sends out many social media signals. And it's easily searchable on Google.
• Canva has free, professional-looking Facebook covers and advertising templates. If you don't have time to design Facebook pages yourself, hire a designer.
• Facebook and Google+ pages are easy to set up yourself, but a professional can handle this for you.
• Once your Facebook page is live, post twice a week. Don't just promote your product. Hard selling on social media doesn't work.
• Set aside 15 to 30 minutes a day to check your page for comments. Find other pages to follow, share an event or newspaper story or post about another business you're partnering with.
• Don't compare what you're doing to others. Do what works for your business.