Snow makes for tricky driving in area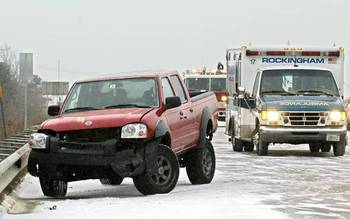 A white Christmas came a day late as snow blanketed the region yesterday, creating slippery driving conditions and causing some drivers to veer off the road.
The greater Nashua area received 3.2 inches by 10 p.m. Sunday, according to the National Weather Service.
No injuries were reported, but Nashua police Sgt. Christopher Peach said the department handled more than its usual share of accidents. Between 3 p.m. and 5 p.m., several minor accidents were reported on the F.E. Everett Turnpike.
"There was nothing serious. But we had more than our fair share of accidents," Peach said.
Sgt. Jim Brace of the Amherst Police Department said the department was dealing with steady accident calls since the snow started falling around 10 a.m., all without injury. For the most part, drivers steered clear of the roads,
Hudson police also reported dealing with some minor accidents. Merrimack, Hollis and Litchfield all said the day had been fairly quiet.
Roy Jack, field supervisor at Rockingham Ambulance, reported no serious injuries caused by accidents yesterday.