Smoke-Free Housing Directory to be unveiled in Monadnock Region
Property owners and managers sought for rental property listings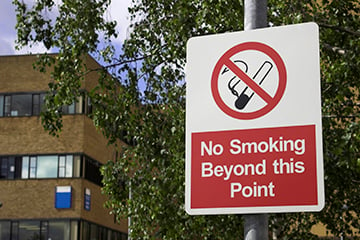 People in search of smoke-free housing in the Monadnock Region will soon have a new resource.
The regional Smoke-Free Housing Directory, offered by The Cheshire Coalition for Tobacco Free Communities, is also being touted as a marketing advantage for property owners and managers who will be able to list and promote rental properties for free.
The online directory is scheduled to go live in June and will reside on the website of Healthy Monadnock, an initiative designed to foster and sustain a positive culture of health throughout the Monadnock Region.
According to the coalition, research shows the advantage of smoke-free housing for property owners and managers is substantial – smoke-free housing has significantly lower turnover costs and reduced fire risks.
According to Tammy Dwyer, the coalition's tobacco control specialist, "Property owners ask me if they will lose tenants. The results from comprehensive surveys say no. The number of people searching for smoke-free homes is on the rise. In fact, research shows tenants would pay more to live in a smoke-free home and avoid the dangers of exposure to secondhand smoke."
Property owners and managers interested in learning more about creating a smoke-free housing policy, and listing their units for free in the directory, are invited to attend an informational session from 4 to 5 p.m., Wednesday, June 10, at Bentley Commons in Keene.
To RSVP, attendees should contact CCTFC at 603-354-5454 x2313 or tdwyer@cheshire-med.com.