Small Wilton manufacturer crafts a big reputation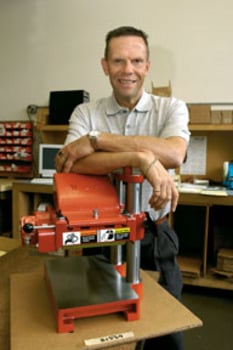 For one New Hampshire company being small does not mean being unnoticed or unappreciated. In fact, for Williams & Hussey Machine Co. Inc. of Wilton, it's quite the opposite.
A manufacturing business dedicated to creating quality machinery for quality craftsmen, the business has carved a niche for itself in the custom woodworking industry throughout the United States and Canada.
For more than 50 years, Williams & Hussey Machine Co. has built one machine, the W&H Molder, a portable molder and planer used by builders, cabinetmakers, millworkers, restoration experts and hobbyists to create standard and customized moldings for homes, historic buildings, cabinets and furniture. With a price tag of under $2,000, the 220-pound machine is also a favorite among hobbyists. The company also manufactures the standard and custom knives needed by the machine to create the intricate cuts.
"Over the years the reputation that we built and earned is for the quality of our product and the service we provide," said Stephen V. Carter, owner and president of Williams & Hussey Machines.
Carter's commitment to live up to this reputation in the eyes of his customers, his 17 employees and the Souhegan Valley community has earned Williams & Hussey recognition as this month's recipient of the Citizens' Bank Not Your Typical Business Award.
"Just the fact that they are servicing machines that came out of their shop 50 years ago is amazing," said Denise Thompson, business banking officer for Citizens Bank. "Their level of service is the same for customers that bought from them 50 years ago as it is for new customers. They're a good company."
Carter began his career with Williams & Hussey as an assistant controller in 1976. He purchased the assets of the business from its parent company, OK Tool, and incorporated in 1987.
Carter then moved the business and its employees from Milford to its present 10,000-square-foot location at the Riverview Mill in Wilton.
The bright red machines have been used in the construction of homes and estates (A W&H Molder was used to create the finishing touches in John Travolta's home), the restorations of universities and government buildings, and even at Disneyland.
When Norm Abram and Tom Silva of the two PBS television programs, "The New Yankee Workshop" and "This Old House," were given the choice of purchasing any machine for their own workshop, each chose the W&H Molder.
With its introduction as a learning tool for future craftsmen, the W&H Molder also can be found in classrooms at Milford High School and Pinkerton Academy, among other high schools.
The machine is completely fabricated at the Wilton shop. Parts and materials also are manufactured locally.
"We have the only American-made cast-iron product, and the vendors we use are local for the most part," Carter said. "The stand is made right here in Mont Vernon, the motor is built in Bedford and the castings come from Rhode Island."
Competitive edge
Although small, Williams & Hussey has a big reputation — one that is nurtured by the favorable words of longtime customers like Tom Desmarais, co-owner of Currier Lumber in Amherst.
"They are a good reliable company. They make a good product and are prompt and courteous and a friendly group to do business with," Desmarais said. "Whenever we have an emergency they are always there to help us out."
Carter and marketing director David Doran view the word-of-mouth reviews from customers as the company's best marketing tool.
"Our customers gave us our reputation for quality and service," Carter said. "Because we are small we are able to react to our customers' needs right away – that gives us a competitive edge."
Carter knows he couldn't do any of this without the talents and dedication of his 17 employees – most of which have been with the company since before the 1987 purchase.
"We like to say craftsmen use our machines but craftsmen make them too," said Doran who recognizes the versatile skills and ability exhibited by all the Williams and Hussey machinists.
For Doran, who has been with the company for 26 years, the mutual respect shared among the employees makes for a pleasant atmosphere.
"The company is small, most of us have worked together for years. It's just a good environment," Doran said.
In addition to nurturing a positive work environment, Carter does his best to offer employees benefit packages often lacking in small companies these days. To Carter, doing what he can to support the people who make his company a success is just common sense.
This same sentiment carries over to the role Carter's business plays in the community.
Although a small company, community members have come to know they can count on Williams and Hussey Machine Co. Inc. for support in nearly any fund-raising campaign. "We're a small company with a little money so we do the best we can to spread it around," said Carter.
Along with numerous monetary donations he makes on behalf of his company each year, Carter has donated equipment to area schools and offered an internship to local high school students. He is a member of the board of the Souhegan Valley Chamber of Commerce and past New Hampshire president of the Institute of Management Accountants.
Carter also is keeping his eye on the future as he works toward getting the W&H Molder into more classrooms and shops in woodworking schools around the country. The Wilton businessman has hopes of nurturing the same passions for a job well done in tomorrow's craftsmen that he has as the owner of Williams & Hussey Machine Co. Inc.