SkillSoft says law could force move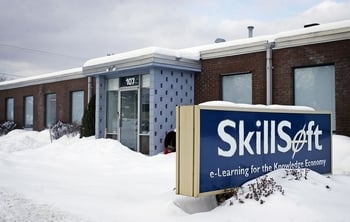 CONCORD – SkillSoft Corp. would explore moving its headquarters from Nashua to Massachusetts if lawmakers fail to fix a 2008 law that could define the business-to-business software selling company as a career school, a company executive said Tuesday.
Greg Porto, vice president of administration, told the House Education Committee the company's leases on two office buildings in Nashua – at which 240 work – are set to expire later this year.
"We very much want to stay right where we are in Nashua. If we can't get this issue resolved to the benefit of the organization, 20 miles down the road is going to look very attractive," Porto said.
Company officials have done the research and concluded Massachusetts laws do not define SkillSoft as a career school, Porto added.
New Hampshire Department of Resources and Economic Development Commissioner George Bald said SkillSoft is the largest New Hampshire company affected by the 2008 law but there are smaller ones that also sell software to business clients.
"I believe our law erroneously extended to software companies such as SkillSoft," Bald said.
Company officials said the cost to comply with state regulations would be "significant" and include posting a surety bond of several hundred thousand dollars.
The law compels career schools to report on those educated by their products. SkillSoft's corporate clients include IBM, Microsoft and Oracle and have together up to 10 million end users, said Christopher Cole, a lawyer representing SkillSoft.
"We don't envision how we would go about doing that," Cole said.
Lawmakers first proposed in 2007, and Gov. John Lynch signed in June 2008, a law (SB 173) designed to crack down on unscrupulous schools that fail to get licensed from the state Postsecondary Education Commission.
"SkillSoft is not a career school in any credible sense of that phrase," Bald said.
Cole said this law changed the definition of career schools "very expansively" and brought in SkillSoft, a firm that trains corporations on how to make use of their library of educational software.
SkillSoft sells to private firms one-to-three years licenses on those materials, he continued.
"We work with corporations that can use the software to educate their own employees downstream," Cole said.
Rep. Emma Rous, D-Durham, asked why SkillSoft was unable to obtain a waiver from state regulation.
Cole said Assistant Attorney General James Kennedy concluded SkillSoft comes under the 2008 law.
"That was largely but not totally the end of the discussion," Cole explained.
Kennedy said a final determination on SkillSoft's status had not been made.
"We haven't seen anything that demonstrates they shouldn't be licensed, but we are still continuing the inquiry," Kennedy added.
Company officials approached Sen. Bette Lasky, D-Nashua, who authored an amendment tailored to SkillSoft and like companies.
The Senate agreed to add this to an unrelated bill (SB 204) dealing with tuition waivers for members of the New Hampshire National Guard.
"We're trying to correct an unfortunate and unintended situation," Lasky said.
"I've been really pleased with how responsive the Legislature has been to this. This is very important because SkillSoft is a key employer in my district."
With no debate, the state Senate approved the bill on a 23-0 vote last month.
Lasky offered a further amendment Tuesday that would exempt any company from state licensing if it does "offer or provide any other form of training or education beyond the software that it licenses."
Rep. James O'Neil, D-Merrimack, said there was never any intention in crafting the 2008 law that it should extend to firms like SkillSoft.
"You weren't the type of people we wanted to throw the net on," O'Neil told company officials.
SkillSoft's two landlords, Richard Cane with The Flatley Cos. and Sam Tamposi Jr. of Tamposi Real Estate spoke for the bill as did David Alukonis, legislative liaison to Nashua Mayor Donnalee Lozeau, and Chris Williams, president of the Greater Nashua Chamber of Commerce.