Similar challenges, different obstacles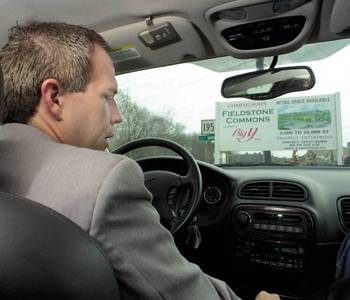 TOLLAND, Conn. – To Tim Tieperman, it's a shining city on the hill.
The Dari-Farms Ice Cream distributing plant is the newest gem in the Tolland Business Park.
Behind the wheel of the dark-gray Chrysler Concorde the town leases for his use, Tieperman turns in to the company's parking lot on a recent weekday morning. A fleet of Ben & Jerry's ice cream trucks fill the lot like a herd of Holsteins.
Tieperman beams.
"This is my pride and joy," he said of the 65,000-square-foot plant.
Dari-Farms, which exclusively
distributes Ben & Jerry's products, is the town's No. 2 taxpayer. It opened its new plant in January, moving here from a smaller location in town.
"We almost lost them to Massachusetts," Tieperman said.
The company was enticed to stay in town by an $850,000 state grant administered by Tieperman and other Town Hall staff.
Tieperman, 40, is Tolland's town manager. In less than two months, he will become town manager in Merrimack, N.H., hired after an extensive 10-month search.
The Kansas native won't be landing in Oz when he changes jobs. But in some ways, he will enter a brave new world he'll hardly recognize.
A different world
In hiring Tieperman away from Tolland, where he had worked for seven years, Merrimack selectmen cited – among other things – his skills at economic development.
He might find that game tougher to play in the Granite State. For example, Tieperman knows he can't expect financial help from the state if a major company such as, heaven forbid, Anheuser-Busch or Fidelity Investments wanted to pack up and leave town.
"New Hampshire doesn't have a long history of throwing money at the issue," said Walter Warren, Merrimack's Community Development director.
"It's part of the 'Live Free or Die' perspective," he said. "Different states operate in different ways."
On the plus side, Tieperman is saying sayonara to a town council prone to party-politics squabbling and to a whole can of headaches regarding education budgets he won't have in New Hampshire.
On Thursday, Tieperman hosted a reporter's visit to his current domain. He provided a driving tour of Tolland, and sat down in Town Hall to discuss his current job, the new one he'll soon assume and how they might be alike and not alike.
Those similarities and differences are no more apparent and pronounced than in economic development in general and Tieperman's efforts to keep Dari-Farms in Tolland in particular.
Great expectations
Selectmen set the bar high in looking to replace Dean Shankle, who left Merrimack last winter after serving a decade. Chief among the qualities selectmen sought was a talent for nurturing the town's industrial and commercial growth to help offset residents' rising property taxes.
"We've realized at this point that when we select a candidate, we have to make sure we're choosing someone who will (foster growth in town) rather than leaving it where it is now," Selectman Carolyn Whitlock said during the search. "We don't want to settle for someone who would just maintain the status quo."
The person should nurture the town and balance quality-of-life issues with economic development, she said.
Tolland has grown during Tieperman's tenure. A business park expanded, shopping plazas were revitalized, and ground was broken for a large supermarket and adjacent shops.
"Economic development is a big issue in our community," said Tieperman, who will earn a $110,000 salary as Merrimack's town manager.
Located off Exit 68 of Interstate 84 about 20 miles northeast of Hartford, Tolland is part rural, part sprawling suburb and even a small part college town – it borders Storrs, the location of the University of Connecticut's main campus.
Sewers versus $$$
A large town map hangs in Tieperman's office on the top floor of a renovated school building. He pointed on the map to a tight cluster of streets in the town's southwest corner.
"Pretty much the whole town, with the exception of this area here, is not sewered," he said. "As we speak, we're in the middle of a massive sewer project to expand."
Extending the sewers down the Route 195 corridor will open others areas to development. The lack of sewers was one of the largest obstacles Tieperman and other Tolland officials had to slog through in promoting growth.
That's something he won't have to worry about in Merrimack.
"The town's significant industrial zones have access to sewers," Warren said.
The only part of town where that might not be true is some land near the Bedford border, Warren said.
Merrimack might have the infrastructure to support industrial and commercial growth. But unlike Tolland, it lacks having as an ally a state willing to open up its wallet.
"What happened was, Dari-Farms contacted the state of Connecticut Department of Economic and Community Development," Beverly Bellody said.
Bellody serves as Tolland's director of Human Services, a job that involves overseeing social services such as welfare. But because she's a skilled grant writer, she also played a key role in the Dari-Farms project.
"They were thinking about relocating because the cost of buying land in this area was so high," Bellody said. The state "contacted the town, and we sat down to try to figure out a way to keep them in Tolland."
Land for the family-owned business to expand was available in the business park. Trouble was, the location was sloped and loaded with ledge – a problem also common in Merrimack.
"The site costs were outrageous," Bellody said. "The state was willing to give the town a grant of $850,000 to do site work.
"We managed that project. We had to work very closely with the state. . . . There was a lot of coordination."
No help here
There is fat chance of something similar happening here, according to Jay Minkarah, Nashua's director of Economic Development and Merrimack's former Community Development director.
"From the state, no, not to my knowledge, no," he said.
There are federal Community Development Block Grants available from the federal government administered through the state. But even then, "It would be very difficult, frankly, to use it under that scenario," Minkarah said. "CDBG come with a lot of strings."
Midwestern states in particular are known for throwing lots of grants and tax incentives to entice and retain businesses, noted Warren, Minkarah's successor in Merrimack. But that doesn't mean it works, he said.
"I'm not sure if research shows there's a lot of evidence that it works in the long run," he said.
It's a tradeoff, Warren noted. Connecticut has a sales tax and an income tax, but is better equipped to give tax incentives to entice and retain businesses. New Hampshire doesn't have the money for that, but also doesn't burden its residents with broad-based taxes.
The differences between the two states don't end there.
For example, in Connecticut, local officials run as Democrats or Republicans. The party affiliation of local candidates in New Hampshire isn't even noted on the ballot.
Plus, Connecticut has a minority representation law. Tolland's seven-member town council, for example, can't have more than five members from one party.
"It flip-flops every two years," Tieperman said about which is the dominant party.
Currently, the council is made up of four Democrats and three Republicans.
"One thing I won't miss is the tremendous party politics," he said.
A change in party could mean a change in the town attorney, for example.
"I sometimes say that Tolland is a small town with Washington-style politics," Tieperman said.
'He don't need no education'
In Connecticut, unlike New Hampshire, the town council or board of selectmen is the sole taxing authority. That means the council oversees the school budget, although by state law it can't cut individual line items, just the budget total.
Tolland's current budget is $41 million. The town's portion is $10 million, the school's is $28 million school and there's a $3 million capital budget.
"That's all one budget," Tieperman said.
"The council takes the heat. The school board can propose a budget. But the council ultimately is the taxing authority."
And the town manager's role?
"The buck stops at my desk when it comes to bottom-line fiscal analysis," he said. "You're the one who sits on the hot seat."
For example, the school superintendent came in this year with a proposal for an 11 percent increase.
"I prepared a trend analysis that said, 'This is not afford-able,' " Tieperman said.
Also, Tolland is preparing to finance the construction of a new high school.
The debt service is going to hit "big time" in 2006, Tieperman said, and he worries how residents will react.
"They'll pass the bond issue," he said. "But when it comes time to pay the piper, they won't pass the budget. I'm concerned that's going to be an issue in a few years."
It's debatable who catches the most grief in Tolland for things such as taxes and school cuts – the town manager or the town council.
"It depends on who you ask," Tieperman said. "If you ask me, I'll say I am, because they expect me as a professional to recommend a budget the town can afford. If I were to just pass the buck on to them, I'm not doing my job."
In Merrimack, Tieperman, working with town department heads and the Board of Selectmen, will only have to sweat the details of the town budget, which for the current year totals $24 million. The $53 million school budget falls solely under the responsibility of the School Board.
"One thing I'm not going to miss is having my head on the chopping block when it comes to proposed reductions to the school," Tieperman said.
"That's the bad side. The good side about the forced relationship with the schools is that we do a lot of joint projects together."
Merrimack selectmen hope to exploit Tieperman's experience in this area. Selectmen and School Board members in January will form a committee to cooperate on ways to share some services to save taxpayers money, although employee contracts will prevent the same degree of cooperation that occurs in Connecticut, selectmen say.
Sister towns?
While driving through eastern Tolland, Tieperman cruised through a subdivision called Buck's Crossing of new $400,000 homes with three-car garages.
"I don't think this is any different from Merrimack as far as the style of homes," Tieperman said.
The area did look remarkably similar to the Wasserman Heights and Jessica Drive developments in Merrimack. Even the terrain looked the same.
"Tolland is a town of hills, slopes and ledges," Tieperman said.
Tolland has about half the population of Merrimack. But like Merrimack, Tolland is growing rapidly, with 100 to 120 housing starts a year.
As with Merrimack, much of Tolland is a bedroom community. Most homeowners commute to high-tech or defense jobs at companies such as Hamilton Standard in Greater Hartford, about a half hour away. A lot of University of Connecticut professors live in neighborhoods in the eastern part of town.
About 200 Tolland residents commute to Boston, a hundred miles away via I-84 and the Massachusetts Turnpike.
Both communities have active youth sports organizations and scenic rural land that residents have worked to protect. Both even have public boat launches; Tolland's is along the Willimantic River, which is smaller but swifter than the Merrimack River.
There are other differences. Many Connecticut towns have extensive social service departments, and Tolland even has a town-funded teen center and youth theater program.
Tolland has no town police force, but has a resident state trooper instead. Troop C of the Connecticut State Police is located in Tolland, providing the town with more than adequate coverage.
Because of that setup, Tolland's police budget is $400,000, as opposed to a seven-figure budget if the town had its own police force, Tieperman said.
The biggest similarity between Tolland and Merrimack, Tieperman said, might be in the quality of the town's administrative staff and employees.
Merrimack officials impressed him during his interviews in town, Tieperman said, especially Selectmen's Chairman Dick Hinch. That's the nice part.
The not-so-nice part will be leaving behind the people he's worked with in Tolland for seven years, Tieperman said.
"I'll definitely miss the staff," he said.
That, and all those pesky hills, slopes and ledges.
"I definitely will miss the beauty of the town. There's a serene beauty of the town I'll have fond memories of," Tieperman said.