SimBaby helps train medical staff for real thing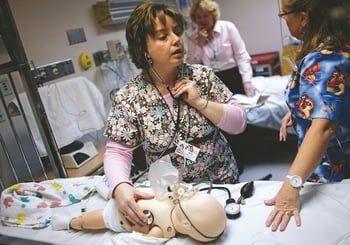 Molly is 8 months old and has a cold. Her mother brings her to the hospital because she's not eating and is having trouble breathing. The nurses take her vitals, listen to her heart and coughing and get to work. A moment later, her heart rate becomes irregular, she stops breathing and her lips turn blue.
In a flash, the nurses jump in, each taking a distinct role, and call for backup. But until it arrives, Molly's life rests on them. Their work pays off. Molly starts breathing again, her heart rate returns to normal and the blueness in her mouth goes away.
"Once the nurses do everything they are supposed to do to treat the patient, then the simulation is over," said Karen Tollick, who manages the Simulation Lab at the Southern New Hampshire Medical Center in Nashua.
Tollick recently held a training simulation for pediatric nurses at the hospital, where Molly was one of their test cases. Computer-controlled patient simulators like Molly are not new, but are a recent addition to the medical center, Tollick said. The hospital has set up a training room that cost about $100,000 and was paid for by a grant through the Charles Nut Trust.
As a computer-controlled simulated patient, or SimBaby, the rubber dummy "Molly," looks, feels and acts like a real baby. With the help of a computer, SimBaby can move, make a variety of breathing sounds, cry, vomit, accept medicine and fluids, has a heartbeat and can "die," just like the real thing. "One of the goals is to make the training more realistic to help build up that comfort level for when nurses face the real thing," Tollick said.
"This is not really a test of the nurse; it's more a drilling of skills. Sometimes the nurse does everything right and the baby gets worse anyway. But the simulator gives them a chance to react to that and get immediate feedback."
Tollick said this helps reduce the risk of mistakes and in turn decrease risk for the patient. According to a recent survey of nurses and doctors who've gone through the simulation at the medical center, the biggest improvements were noticed in the areas of communication and teamwork – critical skills to master in an emergency situation, she said.
In addition to the SimBaby, the hospital's training room has a computer-controlled adult dummy and all the tools, medicines and equipment nurses and doctors would use in a real-life scenario. Tollick said she likes to make the simulations as real as possible and has been known to call out a code over the hospital's announcement system, which brings some of the specialized doctors and nurses into the room.
"We've called anesthesia in here and the (emergency department) docs," Tollick said. "They all come and stay and play and learn right along with us. So it's not just nurses learning this, we train as teams because that's what happens in real life."
The room is also outfitted with ceiling-mounted video cameras and audio so that nurses and doctors can review the videos and learn from any mistakes they may have made and pick up tips from what they did well.
During a 45-minute training session, participants get a set of four scenarios cooked up by Tollick and taken from actual cases.
"We learn from what happened in the past," Tollick said. "We build our scenarios around actual cases and then take it to its worst conclusion. When it's a scenario nurses actually see or have seen, they can relate to it better."
She inputs the scenarios into a computer that generates a procedure and a list of steps the nurses should cover during the emergency. The computer also displays a real-time diagram of the baby, which shows Tollick how the child is "reacting" to what the nurses are doing, if a treatment is working, and even how much pressure nurses are applying to the child when taking its pulse or giving chest compressions.
"I'm still not used to not being able to do all of the treatments (during a training)," said registered nurse Maria DeCotis, after completing one of the scenarios. "Usually we have to call out what we're doing, instead of just doing it. This is definitely more realistic."
During one scenario at a pediatric nurses' training, the SimBaby's heart stopped and the training nurses were able to use live defibrillator paddles to shock the baby, which caused a "reaction" in the scenario and the computer allowed the baby to get better.
"I think the more realistic the training is, the more confident we are going to feel after going through it," said Jean Knecht, a registered nurse at the medical center.
Registered nurse Amanda D'Ambrosio added that the realistic scenarios force trainees to think on their feet more than traditional simulations, which employ "lifeless" dummies.
"It's hard to pretend to do what you need to do," she said. "This way, we actually have to go through what we go through on the floor . . . By doing it, it forces us to process the action and really focus on what we're doing."
Tollick -dubbed the Steven Spielberg of training by the pediatric nurses – hopes to take the training even further by adding things like trauma wounds, detached limbs, serrated bowels and blood to the human simulators. She said she'd also like to see the hospital eventually purchase a newborn SimBaby for nurses and doctors to work on.