Shortage no problem in Nashua, where just 9 children were inoculated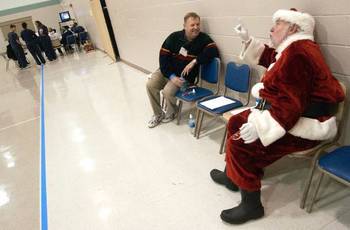 NASHUA – Seventeen-month old Samantha Gates had a pretty good idea of what was coming, and she wasn't happy about it.
When nurse Debbie McLaughlin reached down to pick her up, Samantha turned away and toddled across the gym floor of St. Joseph Church as fast as her little legs could carry her. Her mother, Kathie Gates, was faster.
She caught up with the fleeing tyke and brought her right back to the table for her flu shot from McLaughlin, the chief public health nurse for the city.
Samantha was vaccinated Friday at a free children's flu clinic organized by the city's Division of Public Health and Community Services. The clinic was open from 9 a.m. to 2 p.m. for children from 6 to 23 months.
Health Department staff brought 400 doses of the vaccine, set up cones to direct parents and children through long lines, and even had Santa Claus on hand to entertain the kids – but only nine children showed up during the five-hour clinic.
A group of 30 staff members and volunteers from the Red Cross and Nashua High School South were at the church to help, but were not nearly as busy as they expected to be.
Red Cross and Nashua High School South were at the church to help, but were not nearly as busy as they expected to be. However, according to Dr. Paul Etkind, the city's epidemiologist, the clinic also served as a training exercise for Health Department employees. If there is ever an emergency and they have to set up a clinic on short notice, they will be prepared, he said.
Samantha was the last child to be vaccinated, after staff and volunteers went several hours without seeing a single patient. Tears poured from her eyes just after McLaughlin gave her the shot, but a few minutes and one bandage later, she was back to smiling and playing with her stuffed rabbit.
Gates decided to have her daughter vaccinated because Samantha had the flu twice last year and gave it to everyone else in the family.
"Her dad catches everything she gets," Gates said.
Samantha is in a 15-child playgroup that meets twice a week. Gates worried that one of the other children would pass the virus to Samantha.
Going to the clinic was more convenient than going to a pediatrician for the shot, Gates said. Samantha's doctor didn't have any vaccine the first time Gates asked, and when the vaccine arrived, the times she could take her daughter to get the shot were inconvenient.
Because of the nationwide shortage of flu vaccine, health officials have targeted the shots for those in high-risk categories, including the elderly and young children.
Etkind said the turnout for last year's flu clinic, which was open to anyone younger than 18, was much greater. "We had people lined up in the hallways and out the door," he said.
The shortage of flu vaccine this year is primarily in vaccines for adults, not children, Etkind said. Many parents have already taken children to their pediatricians for the shot, he added.
Etkind said the flu is not a virus that should be taken lightly. Last year, six kids from Colorado died from the flu, he said, prompting a huge demand for the vaccine. A worldwide outbreak of the flu usually occurs every 10 to 20 years, he said, but one has not occurred since 1968. "We are very overdue for a pandemic," he said.
Although a deadly outbreak is not likely to happen this year because the strains of the flu are similar to last year's and people's immune systems are better prepared to fight them, Etkind said, the vaccine shortage has led people to look at the virus as a threat. "The demand for the flu vaccine this year really got the message out that the flu is a bug we need to respect, and people should get vaccinated," he said.
The Division of Public Health and Community Services is deciding what to do with the remaining vaccine and is considering holding a clinic for adults.