Shop cuts out a niche in paper-art market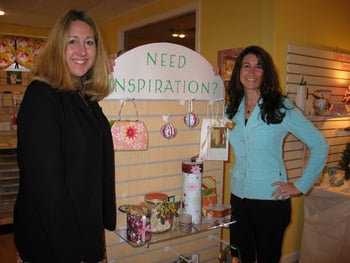 Once upon a time, American women gathered at quilting bees to create and socialize, and that's something Christine Wheeler and Karen Boyd sought to recapture when they opened their Manchester paper-crafts studio.
The studio, Talk, Paper, Scissors, which opened in September in the Willow Tree Plaza in Manchester, has a name based on the the children's game, "Rock, Paper, Scissors," said Boyd, "but it's the social aspect, the 'talk,' that is what we're trying to emphasize. And 'Talk, Paper, Scissors' says that it's fun, like the kids' game. We want people to know that crafting is for everyone; anyone can do it."
Wheeler said that the studio provides an alternative to more traditional meeting places, such as bars or movie theaters, where conversation often can be difficult.
"It's a social environment specifically geared to women, but also provides an outlet for that 'craftiness' to come out," said Wheeler.
In fact, the Craft & Hobby Association, a trade organization of more than 6,000 member companies, estimates the craft and hobby industry in the United States is a $30 billion business. And Talk, Paper, Scissors' spin on the popular paint-your-own pottery studios is looking to tap in to that market.
The studio itself is equipped with dozens of specialized pieces of equipment including cutters, crimpers, stamps, and even a computer station for photo art and other projects. A Cricut machine, sort of a cross between a printer and a laser-cutting lathe, is also available for intricate paper designs.
An $8 fee gives crafters full use of the studio, where staff also on hand to give creative suggestions, instruction on use of the equipment and even tips on how to bring crafting skills to the next level. Customers new to crafting can begin by speaking with Boyd, Wheeler or a member of the staff to discuss their project and budget.
Crafters also can just pay the studio fee and dive right in on their own.
"We wanted the studio to be bright, inviting and comfortable, and even a little funky and a little bit upscale," said Boyd.
A far cry from its former life as a mortgage-lending office, the light-filled studio is painted a baby-duck yellow with light wood floors, creating an environment that is sophisticated, feminine and yet almost childlike in its ability to foster creativity.
A small kitchen area for coffee, tea and snacks is at one end, with simple square tables and chairs arranged around the space that make it seem more like a café than an art studio, again to stimulate sharing and conversation.
A small classroom, about the size of a dining room, seats eight, and a retail area stocking everything from glitter to, of course, paper and scissors, make up the rest of the establishment.
"We chose this location because of its exposure to Willow Street. We wanted someplace that was easier to find, especially coming in as a new business," said Wheeler. "There are also side roads to this part of Willow that make it easy to get to. You don't have to get caught up in the mall traffic."
"Parking availability was also very important," said Boyd. Theirs is plentiful and free, both of which can be hard to come by in Manchester.
"The location also is well placed with the other women-oriented businesses in the building," said Boyd. "We've got a Mary Kay training center, A Market's education center, a dance studio, a nail salon," added Boyd. "There are a lot of women coming into this building, and that's definitely our main target."
Wheeler, a self-professed new but eager crafts learner, has played the role of "customer," taking some of the studio's own classes, which are part of what makes Talk, Paper, Scissors different from other crafting stores.
A full slate of workshops — ranging from making holiday cards to paper jewelry to calligraphy and even turning drab lampshades into works of art — are taught by the studio's three creative assistants and other crafts professionals.
The classroom also is available for private parties of up to eight guests, and arrangements can be made for larger groups.
Talk, Paper, Scissors also brings its concept outside of the studio walls with off-site parties at home, office or school.
Other services include private classes, custom card, invitation and announcement design, and custom rubber stamp design.
Such a broad range of value-added services demonstrate that Boyd and Wheeler know a bit more about business than some entrepreneurs.
Boyd, 30 and newly married, and Wheeler, 36 and the mother of a 15-year-old son, worked together for five years as marketing professionals for Schleuniger Inc. in Manchester.
"We had been talking for a while of doing something like this," said Wheeler.
In fact, it was her desire to own her own business that merged with Boyd's passion for crafting that helped the two create the concept.
A year's worth of research also led Boyd and Wheeler to set their hours of operation: noon to 9 p.m. Wednesday through Friday; 10 a.m. to 6 p.m. on Saturdays; and 10 a.m. to 4 p.m. on Sundays.
"We realized there are a lot of women that work during and there are a lot of women who have their kids during the day," said Wheeler.
On a recent Friday night, they hosted a "Wine and Crafters" get-together for an alternative happy-hour event of socializing and creative exchange.
They also took another step rare for fledging businesses by hiring three employees before they opened to assist in the shop and with customers in the studio as well as to teach some of the classes.
"We are so lucky to have such talented and friendly individuals work for us," said Boyd. "They are part of what makes our concept unique."
While focused on getting the word out about the business, Boyd and Wheeler said they "definitely want to be a community service-oriented business."
As an example, they sell a special rubber stamp for $15 benefiting children diagnosed with cancer with all proceeds going to the St. Jude's Children's Research Hospital. Future plans involve support for a local food bank.
"Our goal is not just to have a business or just a store, but to create that creative idea-sharing community," said Boyd.
For more information: Talk, Paper Scissors Inc., 575 S. Willow St., Suites 210 & 211, Manchester; 669-8009, www.talkpaperscissors.com