Share of cash sales continues to drop
Figure could soon hit pre-housing crisis average says CoreLogic report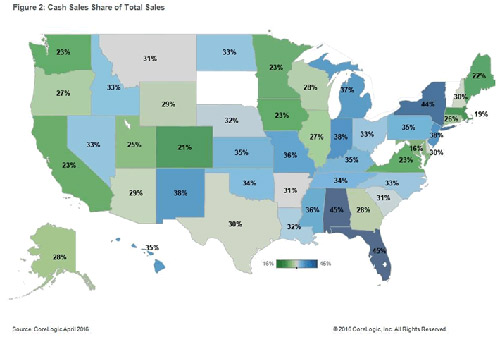 Cash sales for homes could soon drop to levels seen before the housing crisis, according to a report from CoreLogic.
Cash sales accounted for 31.6 percent of total home sales in April 2016, down 2.8 percent points year over year and down 1.6 percentage points from March 2016. In fact, during the first four months of 2016, the share of cash sales averaged 33.9 percent, the lowest start to any year since 2008. If the share of cash sales continues to fall at the same rate it did in April, it would hit 25 percent by mid-2018, the level cash sales averaged prior to the housing crisis, says CoreLogic.
The cash sales share peaked in January 2011, when cash transactions accounted for 46.6 percent of total home sales nationally.
According to CoreLogic, New Hampshire currently has the highest share of cash sales in New England, at 30 percent.
Real estate-owned sales had the largest cash sales share in April 2016 at 56.7 percent. Resales had the next highest cash sales share at 31.3 percent, followed by short sales at 28.6 percent and newly constructed homes at 14.5 percent.
While the percentage of real estate-owned sales that were all-cash transactions remained high, those transactions accounted for only 5.7 percent of all sales in April 2016. In January 2011 when the cash sales share was at its peak, REO sales represented 23.9 percent of total home sales.
Resales typically make up the majority of home sales, totaling about 83 percent in April 2016, and thus have the biggest impact on the total cash sales share.