Shaheen and Hassan take aim at 'unacceptable' condition of bridges
SAFE Bridges Act would begin addressing deficient structures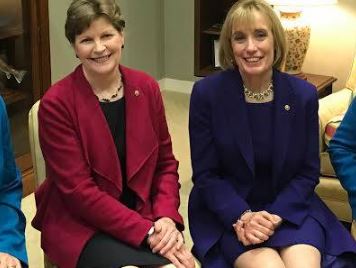 Following the release of a report card that gives New Hampshire's roads, bridges and other infrastructure mediocre, or worse, grades across the board, U.S. Sen. Jeanne Shaheen has reintroduced a bill that would begin to repair or replace 56,000 structurally deficient bridges in the U.S.
"The condition of New Hampshire's bridges is unacceptable," said Shaheen. "Their disrepair hurts our economy, increases traffic, adds wear and tear to vehicles, and puts public safety at risk. The consequences of bridge failures are catastrophic, and it is critical that Congress prioritize this infrastructure."
She said the legislation "provides a long overdue initial investment to help repair and replace New Hampshire's structurally deficient bridges while putting Granite Staters to work."
Shaheen was joined by her fellow Democratic New Hampshire senator, Maggie Hassan, along with U.S. Sen. Sheldon Whitehouse, D-R.I., Bob Casey, D-Pa., and Angus King, I-Maine, in sponsoring the Strengthen and Fortify Existing Bridges Act (SAFE Bridges).
The bill would establish a program to provide funding specifically dedicated to repairing and replacing bridges categorized as structurally deficient. In New Hampshire, more than 400 bridges are listed as structurally deficient or in poor condition.
The SAFE Bridges Act would authorize an additional $2.75 billion annually through the 2020 fiscal year to enable states to repair and replace their structurally deficient bridges. The bill uses bill a needs-based formula to provide states with funding levels according to their share of the nation's deficient bridges.