Seven-building Portsmouth property for sale for $8.75m
Includes Frank Jones Center function facility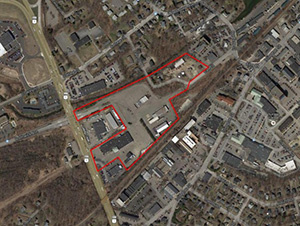 Billed as the "largest assemblage of commercial land and buildings available in Portsmouth," a 12-acre, seven-building property that includes the Frank Jones Center function facility, is for sale for $8.75 million.
In addition to the 29,000-square-foot function facility, the property includes two industrial warehouses with a total of 18,000 square feet of space, a 3,400-square-foot office building and a contractor's yard with a garage and storage buildings, according to the Chris McInnis of Paul McInnis Inc., the listing agent.
McInnis told the Portsmouth Herald that the owner is willing to subdivide and has been meeting with city officials to discuss possibilities that could be "in the best interest of the city."
Possibilities include a mixed-use development that includes residential housing and/or a connector road through the property to Islington Street, he said.
McInnis added that "significant groups" of potential buyers have shown interest in viewing the property.