Service Credit Union provides RiverWalk construction loan
Resort hotel under construction at Loon Mountain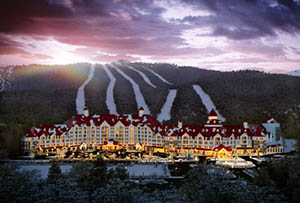 Service Credit Union has announced the closing of a construction facility loan for the development of the 170-unit RiverWalk whole and fractional ownership resort hotel planned along the Pemigewasset River in Lincoln.
The borrower is InnSeason Resorts, a Massachusetts-based resort development company with locations in New Hampshire, Maine and Massachusetts.
Construction on the project began in the fall.
The resort, a redevelopment of the former Franconia paper mill site, will be located at the base of the South Peak of Loon Mountain on the banks of the Pemigewasset River. Broken up into three phases, the 145,000-square-foot, 80-unit first phase of the development is set to be completed by January 2016. The project will total 300,000 square feet and 170 units.