September foreign sales surged to a three-year high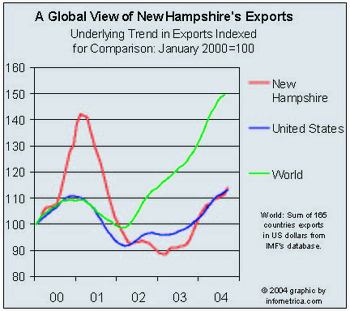 Foreign sales of locally made goods have considerably bolstered this year as demand from around the globe has strengthened significantly.
State companies have reaped the benefits of a gradually falling dollar, which works its way in boosting exports. A weak dollar makes New Hampshire's goods cheaper in the international markets and gives state producers an extra advantage.
Since the dollar's swoon began back in February 2002, the greenback – measured by the Federal Reserve's dollar index, which accounts the dollar's value against the currencies of our major trading partners – has declined 25 percent.
More important, the dollar has fallen 44 percent against the euro, implying that consumers from Germany, France, Italy, Spain and the Netherlands – the state's major European export markets – could now pay 44 percent less than in 2002 to buy locally produced goods.
Since February 2002, the Canadian dollar also has appreciated by 22 percent against the greenback, which means that goods made in New Hampshire are 22 percent cheaper north of the border so consumers and businesses can afford to buy more of them.
Historically, the dollar's slide has presaged acceleration in the growth of state exports. It doesn't happen right away. It takes about a year for the adjustment process to the new competitive price, ordering by the buyers and, finally, shipping the product from New Hampshire's factories to foreign destinations.
Given the historical record, the two-year weakness in the dollar has generated solid gains in foreign sales and thus a boost in local jobs, especially in the manufacturing sector.
Following a decline of 1.6 percent in August, international sales from New Hampshire's companies surged 12.3 percent in September, hitting a 38-month high. The latest snapshot in international trade activity brought state exports of goods to $212.4 million, adjusted for seasonal variation, which is $23.3 million more than in August.
The changing winds of the global economy over the last 12 months have turned toward New Hampshire's exporters. Led by strong sales to the Canadian market, state companies last September shipped abroad $53.5 million, or 33.7 percent, more goods than in September 2003.
September's exports were largely driven by manufactured goods, which accounted for 78 percent of all state exports. Foreign shipments from manufacturing companies significantly improved in September by 5.9 percent from the previous month, to $166.0 million, adjusted for seasonal variation. On an annual basis, sales abroad from state factories were $34.2 million, or 33.7 percent, higher than in September of last year.
The connection between production and employment translates to a strong link between foreign sales and export-related jobs. Considering the state's composition of international trade, industrial mix and productivity, one in every four manufacturing jobs in the Granite State is tied to exports.
The generation of export jobs results from two production phases. The first involves workers in factories producing the final product exported to the global markets. The second phase considers spillover effects within the manufacturing sector. It includes workers in other factories who support the manufacturing of materials that enter into the production of the first phase.
In New Hampshire, for every 100 direct jobs in the first phase, there are 63 indirect jobs generated in phase two.
Non-manufactured goods
Exports of non-manufactured goods went up 43.6 percent in September to $46.3 million, adjusted for seasonal variation. This group of shipments abroad consists of agricultural goods, mining products and re-exports, which are foreign goods that entered the state as imports and are exported in substantially the same condition as when imported.
For the country as a whole, U.S. exports of goods, seasonally adjusted, rose 1.4 percent in September to $68.9 billion, an all-time record. The latest jump in national exports was driven by record sales in industrial supplies and consumer goods. Exports of automotive vehicles, parts and engines also hit the second-highest level on record.
The September record performance in national exports becomes a major contributor to the growth of GDP – the nation's output of goods and services – in the third quarter of 2004. U.S. exports posted their best quarter on record, hitting $204.4 billion, a 14.7 percent surge from the third quarter of 2003.
How did New Hampshire's companies fare in export growth in the third quarter of 2004, which ultimately influences the state's output of goods and services? New Hampshire ranked ninth in export growth among the 50 states during the third quarter of this year. When compared to the third quarter of 2003, foreign sales from New Hampshire's companies, seasonally adjusted, increased by an annual rate of 26.5 percent — much better than the national average.
Evangelos Simos, chief economist of the consulting and research firm Infometrica Inc.., is editor for international affairs for the Journal of Business Forecasting and professor/department chair at the University of New Hampshire. He may be reached at eosimos@infometrica.com. This column is distributed by Infometrica Inc.