September EYE Award Winner: Michelle Bouchard, Down the Aisle in Style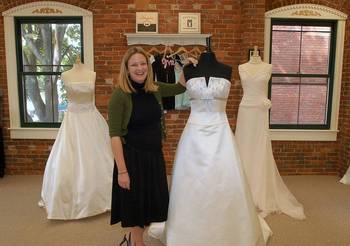 Michelle Bouchard has made her entrepreneurial dream of boutique ownership come true simply by filling a need in the local market. The daughter of two small-business owners, the 28-year-old Bouchard says she always knew she would one day open her own boutique. The only question she had was "what kind."
While a marketing degree from the University of Nevada-Las Vegas and 12 years of retail experience had prepared her to meet the challenges of business ownership, it was her closetful of bridesmaid dresses and her own wedding experience — combined with the limited local resources for brides-to-be — that led her to create Down the Aisle in Style, a Manchester bridal boutique offering wedding couture and accessories for brides-to-be and their wedding parties.
In May 2005, after deciding on the perfect location – 3,000 square feet on the second floor of a renovated mill building at 62 Lowell St. — Bouchard opened the doors to her dream.
The bright, airy space welcomes natural light. A towering brick wall and extra-high ceiling offers brides-to-be the perfect backdrop for modeling wedding dresses and bridesmaid gowns (many of which can be worn again – really!).
Like her choice of location, the young entrepreneur chooses her designers carefully, selecting those not yet represented in the region in order to offer her customers unique designs while maintaining a close working relationship with the designers themselves.
"I work with smaller designers because it enables me to remain more hands-on and gives me a more exclusive selection," said Bouchard. "I want people to be able to come in and see and touch these dresses. I want people to be able to have fun and relax. This doesn't have to be stuffy."
---
What inspired you to start your business?
I always wanted to own a boutique, but I had never really thought about a bridal boutique. The idea for a bridal boutique came about when I saw the need. We only had one here – in the largest city in the state. It's great – this covers both – it fills a need and I get to sell my dresses.
What about this endeavor are you most proud of?
I think the fact that my customers always come back. They send me pictures of their weddings, and they all have great things to say about their dresses and their experiences here. That's great, especially when I think about the fact that up until now this is the biggest day of their lives – there's a little bit of pressure that goes with that.
Where do you see your business 10 years from now?
I would really like to have a second location in a different part of the country, maybe Florida – my in-laws live there, so that would work out well. I'd like to be bigger. I'd like to maintain the same number of designers, 10 works well, but I'd like to be big enough to have maybe four or five employees at each store.
How do you kick back?
Sunday is really the only day I'm not working. With one day off a week there is always something filling that time — family activities maybe. I'm looking forward to fall. Throwing something in the crockpot, curling up and watching a good football game — I love that.
Who are your role models or sources of inspiration?
My dad is a successful businessman. He worked for a couple of companies and owned his own printing business. And my mother owned her own travel agency. They always encouraged me and have always been so supportive.
You're a New Hampshire native, but you could have opened your boutique anywhere. What is it about New Hampshire that brought you back?
My family. I always knew I'd come back here. Growing up, we spent a lot of time at Hampton Beach. It's things like that that stay with you and that you miss when you're away. And New Hampshire is small and the people are so nice. Having my business here just seemed right.
Also, the banks here have made it easier for small businesses to succeed. I don't know if that would be true in a larger city. And, of course, New Hampshire is tax-free.
What advice would you give other entrepreneurs like yourself?
Try to work in the field before opening your own business. Spend lots of time researching your location. Don't worry about losing a location — there will always be another one. Also, make sure there is a demand for your product or service. Never be afraid to ask questions. I am still on the phone regularly calling my dad with questions.
The Emerging Young Entrepreneur awards program is presented by New Hampshire Business Review in partnership with Centrix Bank. The monthly award honors New Hampshire's young business owners for their creativity, determination and business success. Visit Centrix Bank online at www.centrixbank.com.