Senior photo with guitar rejected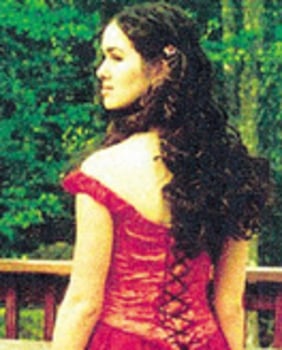 HOLLIS – High school senior Jess d'Arbonne said it made sense for her to pose with her arms cradling her guitar for her final yearbook photo. D'Arbonne, who turns 18 on Saturday, is the lead singer of the Cindy Loo Whos, an all-girl band made up of four Hollis/Brookline High School musicians.
"That guitar is special," she said. "It's 60 years old. It belonged to my great-uncle. He gave it to my dad, and I learned to play guitar on it. I was hoping years from now, I could look back on it. Plus, everyone in school knows me as the girl with the old guitar."
But school administrators weren't singing from the same sheet.
"The yearbook adviser said (the photo) was unacceptable because I'm holding a guitar," Jess said. "I felt really angry and frustrated. Why didn't they tell us in May?"
In August, seniors received a letter from yearbook faculty adviser Brigitte MacMillan regarding yearbook photo requirements. According to a copy of the letter given to The Telegraph, the photos submitted for the senior section had to be glossy, color and 2½ inches by 3½ inches.
The letter also requested seniors be pictured from the waist up and noted that "nontraditional" photos would be subject to review and might not be accepted.
"We received a letter after the pictures had been received and paid for," said Greg d'Arbonne, Jess' father. "There was no explanation of what traditional was and what nontraditional was. If you don't define it, how are you supposed to know?"
Hollis/Brookline High School Principal Charles Flahive on Tuesday night said local photographer Leslie O'Shaughnessy had spoken to the senior class during the spring regarding different poses for pictures. The d'Arbonnes worked with Photography by Genevieve in Amherst.
After hearing that his daughter's photo was being rejected, Greg d'Arbonne said he and his wife combed through Hollis/Brookline yearbooks dating back as far as 1975 and found several photos of students posing with pets, musical instruments and other props.
The yearbook has a new adviser this year, Flahive said, and the yearbook staff wanted "the senior section to look more formal."
Flahive said the school has rejected senior photos in years past.
But after speaking with the yearbook adviser and the principal, Jess d'Arbonne said she still hadn't gotten a definition of nontraditional.
"(If) they wanted this ideal community with identical smiles, why didn't they line us up with the freshmen and have our photos taken by the school photographer?" she asked.
Ultimately, Jess d'Arbonne was given a few minutes to explain to the yearbook staff – which is made up of students and the faculty adviser – why she thought her guitar photo should be included.
According to Flahive, the yearbook staff stood by its decision not to include the portrait in the senior section, but offered to include the photo and others of the Cindy Loo Whos in another part of the yearbook.
"I did not feel it was my place to override the decision of the yearbook staff," Flahive said.
On Tuesday, Greg d'Arbonne, who is also a member of the Hollis/Brookline Cooperative School Budget Committee, said he is not happy with how the decision was made, but will accept it nonetheless.
"I think they went overboard at Hollis/Brookline High School," he said. "I think someone had a vision of how the yearbook should look and is forcing it on students. People should not roll over to authority, and that's the lesson we were trying to teach our daughter."
The Hollis/Brookline situation comes on the heels of a similar conflict developing in Londonderry. There, the School Board is facing a potential legal battle over the First Amendment rights of Blake Douglass, a trap and skeet shooter, who submitted a yearbook portrait of himself posing in a sportsman's vest and gloves with his shotgun.
Claire Ebel, director of the New Hampshire Civil Liberties Union, said Tuesday the NHCLU may offer its assistance in the Londonderry case if help is requested.
"If standards are going to be implied, then everyone needs to know what those standards are," Ebel said.
"Those (Douglass and d'Arbonne) photos would not have been offensive to me, but the question is why are the First Amendment rights of this student being treated differently? Why is this student's photo being singled out when others of similar content have been accepted?"
According to Jess d'Arbonne, bandmate Sarah Fard was also told her senior photo was unacceptable. Fard posed with a guitar, too.
Jess d'Arbonne said she knows of at least two other students whose photos were not accepted for publication this year.
Since her photo was rejected, Jess d'Arbonne submitted another photo showing her in her prom dress.
"It's unfortunate that it came to this point," Flahive said. "Next year, the letter will go out earlier. (The policy) has to be made clearer and we have to decide whether we want to go to the (School Board) for a formal policy."
Life doesn't seem to stop for a yearbook photo, though. The Cindy Loo Whos are working on an album, and Jess d'Arbonne is busy with rehearsals for a school play.
But she said she will take something away from the experience.
"I learned it's not always easy to stand up for yourself," she said.