Semiconductor firm breaks ground on Manchester expansion
Allegro Microsystems to add 15,000 square feet to Perimeter Road site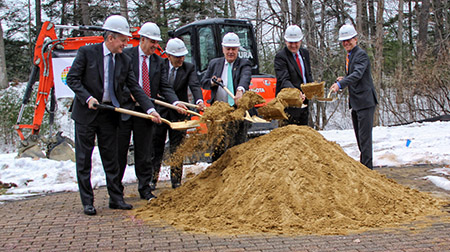 Allegro MicroSystems broke ground Tuesday on a 15,000-square-foot expansion of its facility at 955 Perimeter Road in Manchester.
Allegro officials said the expansion will support the firm's ongoing growth and investment in research and development as well as reinforce the Queen City location as its center of strategic business development. The firm is based in Worcester, Mass.
Allegro's building expansion was designed by Boston-based Margulies Perruzzi Architects and is being built by Hutter Construction Corp. of New Ipswich. Completion date is scheduled for the summer of 2018.
Allegro currently leases its New Hampshire facility through Brady Sullivan and plans to purchase it in May 2018.
After the expansion, the company, a developer of high-performance power and sensor semiconductors, says it will employ upwards of 400 people at its Manchester site, many of them engineers.
Ravi Vig, the company's CEO, said the firm "will continue to strengthen its investment in its technical talent and focus on high-growth technological segments. Our ability to attract and retain skilled, high-tech talent to our Manchester facility will allow us to further invest in this prime location."