Seeking a role in NH's EV future
ReVision Energy embraces 'beneficial electrification'
As part of its efforts toward what's called "beneficial electrification," ReVision Energy wants to install electric vehicle charging stations in New Hampshire, ultimately powering them with their specialty: solar or another other type of renewable energy.
It's a broad, long-term vision for the company, which installs solar energy systems for residences and businesses, along with other energy-efficiency applications. Headquartered in South Portland, Maine, ReVision has two offices in New Hampshire (Brentwood and Enfield) and offices in Montville, Maine, and North Andover, Mass.
Its vision, in addition to reducing society's reliance on fossil fuels, encompasses the practical need of having the workforce to move that mission forward. To that end, it has created an apprenticeship program to train and certify electricians. Its first graduating class of 24 was celebrated in October.
"We're doing everything in our power to accelerate the transition from internal combustion engine automobiles to zero-emission electric vehicles," said Phil Coupe, ReVision Energy co-founder.
Among the company's efforts is winning approval from New Hampshire to construct EV charging stations as part of the state's use of $4.6 million from funds paid by Volkswagen as settlement for a diesel emissions-rigging scandal.
A request for proposals to use this money from the Volkswagen Mitigation Trust drew bids for EV charging infrastructure at 35 sites in 25 towns and cities. ReVision submitted proposals for stations in Colebrook, Concord, Dover, Epping, Claremont, North Conway and Gorham.
Its bid for seven locations was second only in number to the 15 from Irving Oil — four in Hooksett, two in Ossipee, two in Warner, two in New Hampton, one in North Conway and two in Bretton Woods.
According to Coupe, ReVision also is looking to electrify its own fleet of vehicles, starting now with the small vehicles used for site visits, then transitioning to its larger vans and box trucks as those EVs become available from suppliers. And they are installing charging stations at each of their locations.
The company also is "installing them out in the world as rapidly as we possibly can," said Coupe. "That includes doing residential customers' homes, we're doing them at commercial businesses, we're doing them at municipalities. And we're also doing public charging units on interstate highways."
As an example of the work done for municipalities, ReVision installed solar arrays for the town of Durham's police station, public library and ice rink.
"We're responding to the multitude of RFPs that are out in both Maine and New Hampshire and in southern Massachusetts, where you have the Volkswagen settlement money right now starting to finally get deployed through government agencies.
We've had pretty solid historic success at winning these RFPs," Coupe added.
To date, only one VW settlement contract has been awarded by the Governor's Executive Council: on Oct. 19, a grant agreement with Errol General Store Inc. in Errol totaling $132,350 for funding the installation of electric vehicle charging stations.
"Our vision for those particular locations is that Re- Vision Energy would be the installer of the EV charging stations," said Coupe. "But we would also be the long-term owner of the hardware so that we can sell electricity to electric vehicle owners."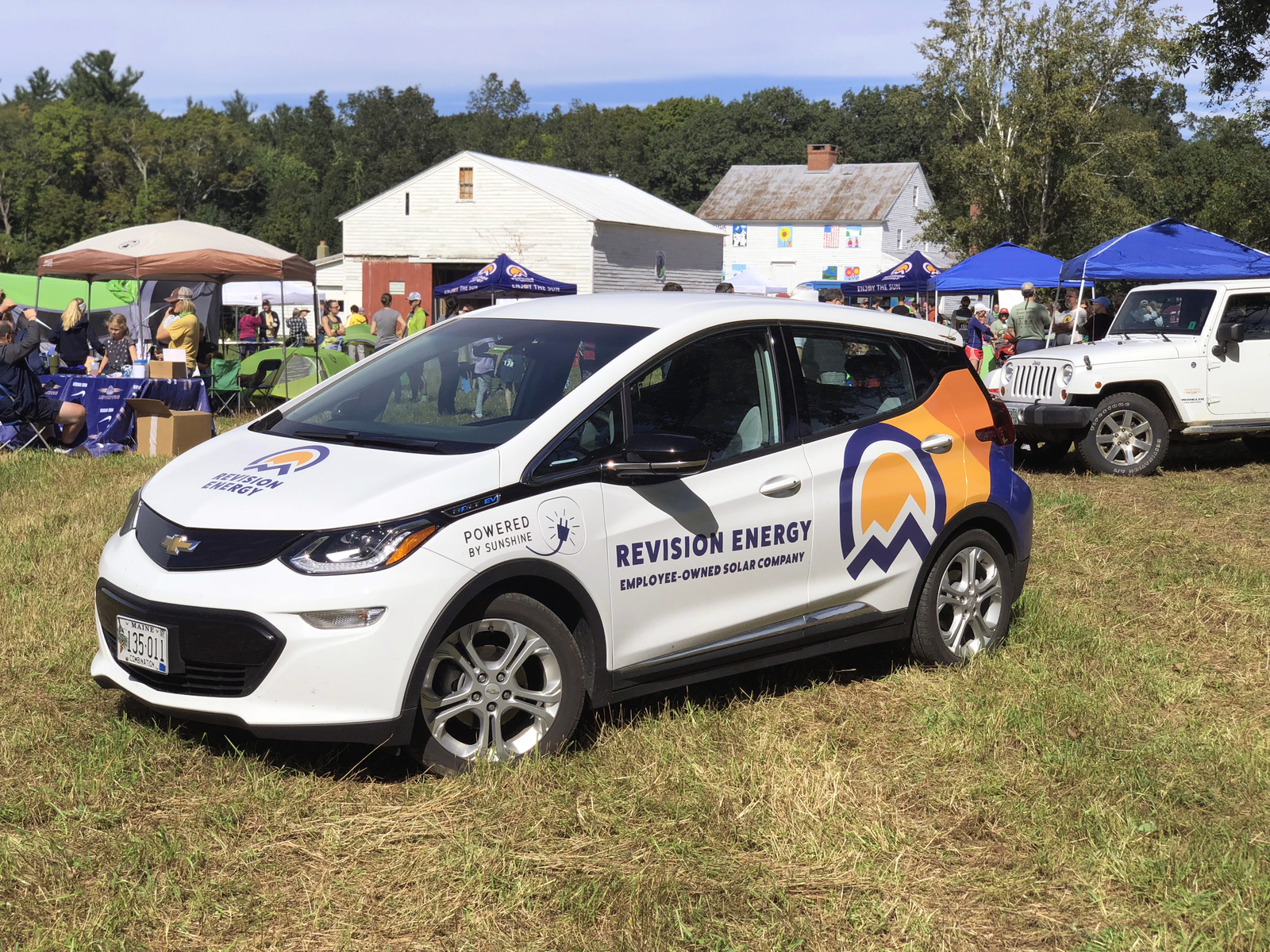 As part of its efforts to move toward 'beneficial electrification,' ReVision Energy is replacing its combustion-engine service vehicles with electric vehicles like this one. (Courtesy photo)
Trained workforce
It's natural to assume that ReVision's charging stations would derive their power from solar.
While that might not happen immediately, the ultimate plan is to have them powered by some type of renewable energy, according to Coupe.
"Our long-term goal is to have them all powered by renewable energy," said Coupe. "That could be solar parking canopies above the EV chargers so that you're making clean renewable solar electricity right on site. It could be that we build remote solar arrays that are dedicated to the EV chargers, and it's also possible that we're able to source other renewable power like wind and hydropower."
Coupe notes that this is the transition to "beneficial electrification."
"If you were to imagine your internal combustion engine automobile, when you convert to an electric vehicle, you eliminate the fossil fuel, and the benefits include zero tailpipe emissions, cleaner air, quieter cars. There are a lot of benefits," he said. "Similarly, if you use heat pumps, powered by electricity, to get rid of your oil furnace or your gas boiler or whatever fossil fuel-heating implement you have, that's also beneficial electrification."
But that transition requires a trained workforce.
"To achieve this goal of beneficial electrification across society, what the world needs is hundreds of thousands of licensed electricians who can actually do the work," said Coupe.
In the post-World War II years, much of American society shifted from the trades. Vocational training was supplanted by a liberal arts education.
"That pendulum has swung away from the traditional trade schools where you create the skilled labor of the future," said Coupe. "So we are in this unfortunate situation where one calculation estimates that we need something like a million licensed electricians across America to really get this beneficial electrification project fully up and running and give us a hope of getting the work done sooner than later."
He added that "in response to this reality," the company "decided that building our own in-house training program — to take, say, a high school graduate from knowing nothing about this stuff all the way to a master electricians license under our own roof — would be the most powerful and potentially successful way to create the skilled workforce that we need today and into the future," he added.
The ReVision Energy Training Center opened in 2018. In October, it formally celebrated its first graduating class.
The four-year ReVision Energy Electrical Apprenticeship Program (REEAP) is registered with the departments of labor in the states of Maine and New Hampshire. The program provides 8,000 total hours of paid work experience, 600 total hours of online classroom instruction, and exam preparation for state licenses.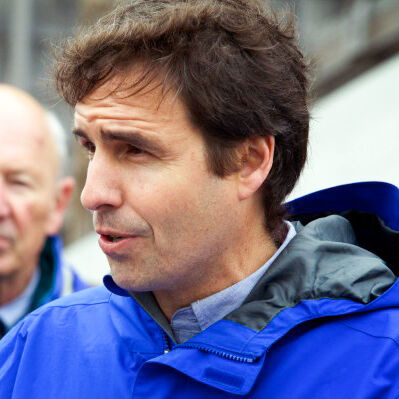 Phil Coupe, co-founder of ReVision Energy, which has bid to install seven EV charging stations around New Hampshire, says the firm is 'doing everything in our power to accelerate the transition from internal combustion engine automobiles to zero-emission electric vehicles.'
There are currently about 60 people enrolled in the program.
"It is awesome to have this kind of focus, that ReVision is forward looking and recognizing that need and the need to invest in it," said the director of the training center, Vaughan Woodruff. "It's also kind of stressful. We've got a short period of time to act so that our kids have the best future that they can. It puts a lot on us to make sure we're able to help build and support the people that are really going to help us implement these solutions."
Irving Oil is another one of the companies looking to play a major role in the state's EV future. Asked about Irving's rollout of EV charging stations in New Hampshire, Katherine d'Entremont of the company's corporate communications, said, "The Irving retail network now hosts 54 EV chargers in New England and more than 70 in Atlantic Canada, as we focus on our continued evolution to meet our customers' changing needs. We're currently developing EV chargers at several locations in Maine, and we look forward to sharing more information about plans for our EV charging network in New England in the future."
One example of Irving Oil's efforts is new construction along Dover Point Road in Dover. The new facility under construction now will feature a Circle K convenience store, traditional gas pumps and six fast-charging stations for EVs.
ReVision's Coupe credits Irving for its public statement acknowledging that "human activity is impacting our global climate and requires action by us all."
"There's a good insight into why they're responding to all of these RFPs; it's not just because they think they can make a quick buck. It's also because they see that bad things are happening to the atmosphere that they can help ameliorate," said Coupe.