Scouts round up donations for food drive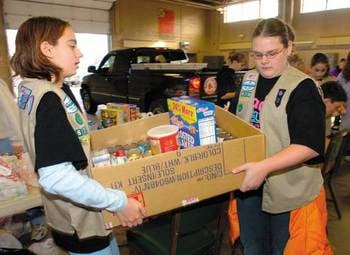 NASHUA – After the pickup truck carefully backed up, volunteers swarmed around its bed, hoisting out dozens of plastic bags crammed with food.
A table of volunteers ripped the bags open, sorting canned food, pasta, cereal and toiletries into boxes for delivery.
By midmorning Saturday, the interior of the Nashua Armory was a hive of activity for the Boy Scouts' annual "Scouting for Food" drive.
Scouting groups across the nation participated in the drive, for which the Scouts distribute empty bags for donation. On Saturday, Scouts across the state collected the donations people left on their front porch.
In New Hampshire, about 350,000 pieces are usually collected every year and the donations go to about 148 organizations, said Jack Gaylord, a district director with the Daniel Webster Council.
Gaylord is the director of the Arrowhead district, which includes Amherst, Brookline, Hollis, Hudson, Litchfield, Lyndeborough, Merrimack, Milford, Mont Vernon, Nashua, Pelham, Wilton and Windham.
There are about 80 Boy Scout troops, Cub Scout packs and venturing groups in the district.
The groups receiving the donations include food pantries, soup kitchens and churches.
The donations were varied Saturday, with volunteers unloading cans of beans, soup, pasta, macaroni and cheese, frosted flakes and toilet paper.
One year, a family donated an entire bag of cat and dog food. Inside the bag was a note that read, "My mommy said there are hungry dogs and cats."
In Merrimack, UPS lends its trucks to several of its employees to collect donations.
Scout Andrew Watkins and his friends kept an eye on the food mounting in the pickup truck by looking through a periscope.Asked about how much food they collected, he said, "I feel happy because I like to have a lot of food every day."
"We can help other people," Andrew Manganello said.
Once the food is delivered, it usually lasts only about three to four days before being depleted, Gaylord said.
"We will be able to feed a lot of hungry people," he said, adding: "There are a lot of people in our communities who need a lot of help this time of the year."
The drive also helps the Scouts to become part of their communities and teaches them to be courteous and kind, Gaylord said.
Other volunteers work to package the food collected.
Girl Scout Amanda Hall has worked at separating and packing donations before.
"I think it's great," she said as she stood behind a table laden with full plastic bags.
"There are so many families who don't have enough food," she said. "Seeing trucks full of food coming is great."