Scamman hopes to tackle school funding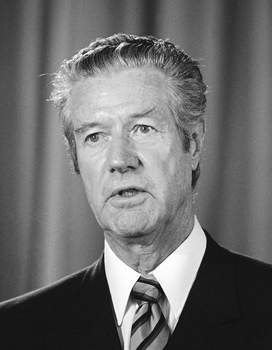 CONCORD – Most of the majority Republican Party was with the other guy, but Douglas Scamman Jr. is back as speaker of the House of Representatives.
Scamman, 62, insists the GOP will unite to work on an issue-based agenda in cooperation with Gov.-elect John Lynch, a Democrat, and the Republican-led state Senate.
"I absolutely feel the Republican Party will come together,'' Scamman said. "By 5 last (Wednesday) night, people were already feeling pretty good and talking.''
This retired dairy farmer looks like the same, soft-spoken man with the big, shy smile who
was House speaker 14 years ago.
Back then, Scamman went out of the Legislature on top, retiring to run for an open congressional seat.
He loves his wife and four children, Republican Party politics and lobster bakes, in that order.
Anybody who believes Scamman took his eye off the political scene hasn't paid close attention.
The most successful of President Bush's re-election campaign trips here in 2004 was the sunny July afternoon Bush spent at Scamman's Bittersweet Farm in Stratham with nearly 4,000 of his closest friends.
On that day, Bush joked about Scamman longing to get back to the House just to spend more time with his wife, Stella, who had just finished her first two-year term.
After losing the U.S. House race in a 1990 primary, Scamman wrote and managed state budgets for Republican Gov. Steve Merrill.
Then for eight years he was administration director at the Department of Transportation. In that role, Scamman was often spotted in the corridors, making sure DOT program plans and spending requests stayed on track.
"Those were valuable experiences for Doug because he got to see state government from the other side,'' Stella Scamman said. "He got to know what it's like to work in a state agency and really see the consequences of legislation.''
Both jobs won him strong friends, who came together to help make the telephone calls or send e-mails during a frantic 36-hour campaign for speaker, which opened up after Rep. Gene Chandler, R-Bartlett, resigned as speaker Monday amid charges of ethics violations.
Coming from behind
In this race, Scamman wasn't the ageless incumbent but the insurgent underdog.
"There were 15 or 20 members we didn't get a hold of. They have already told me, 'How come you didn't call me?' '' Scamman recalled, chuckling.
A family friend who was running for office recalls the "initiation'' he received one weekend morning many years ago from Scamman and his father, the late former House Speaker W. Douglas Scamman.
"I showed up at the farm and got led to the barn out back,'' the candidate recalled. "Right next to one of the stalls was a table with eight or 10 sitting around it. There was Doug, his dad and their friends.
"We sat around for four hours while they just fired questions at me and we talked politics. I'll never forget that day for the rest of my life.''
Scamman has strong opinions, but he would always rather hear yours first.
"I will never tell anyone how they have to vote,'' Scamman said. "I told them that's not how it's going to happen.
"They vote correctly when they vote the way they think.''
He also knows how much easier it is to settle a horse with an apple or a sugar cube than with a riding crop.
"People in our caucus who served with him tell us he was always fair, and that's all we were looking for,'' said House Democratic Leader Jim Craig of Manchester, who played a pivotal part in Scamman's victory.
Scamman said he looks forward to reaching out to Alton Republican Michael Whalley, the deputy speaker who had more House Republicans supporting him than Scamman did, but got swept under a tide of unrest over the ethics charges against Chandler.
"Mike's a friend of mine. We'll have a good relationship,'' Scamman vowed.
Behind the scenes, frustration and resentment among other legislators linger over the fact Scamman secured the gavel with the votes from all the House Democrats and only a third of the House Republicans who had been elected on Nov. 2.
Scamman has been away from the House for 14 years, but insists much about the political process is the same.
"Some things have changed a little bit," Scamman said. "The process always evolves, and some of the evolution I would prefer to just change it back a little bit, have more strength in the committees.''
He wants leaders of those 21 policy committees he will name later this month to expect less pressure from him than they got from Chandler's leadership team.
Funding fix?
A day after his stunning upset election, Scamman has already changed course on the reason he ran for the House in the first place, to author legislation that creates a sustainable education aid law.
"I will not sponsor any bills," Scamman said. "I think that's inappropriate. If I make rulings and decisions that affect the House, I want them to know I am doing it evenhandedly.
"In this process, appearance of not being evenhanded can sometimes be a problem.''
Scamman feels just as passionately that ending the gridlock over this issue can be accomplished.
"I will stay on top of this and let everyone know in the Legislature that it's a top priority with me and that a long-term, equitable and practical solution is my number one goal,'' Scamman said.
In outline form, the Scamman doctrine on school aid looks a lot like Lynch's.
Scamman also wants to repeal the statewide property tax and find some other place to get the $20 million a year that tax yields in donor payments from property-rich towns.
Unlike Lynch, Scamman is against raising the cigarette tax to make up the difference and doesn't believe raising any new revenue will be necessary.
Like Lynch, Scamman rejects the view the state must contribute far more than the $450 million it did last year.
"I think that's enough money,'' Scamman said.
Also like Lynch, Scamman wants lawmakers to work out the details but put more emphasis on getting aid to income-poorer communities.
"A formula that does not include the relative income of a community is grossly unfair to the communities where the income is low," Scamman said. "I think that should be part of any formula.''
Last to first
On Wednesday, Scamman finished last among four candidates with only 43 votes on the first ballot, but he still had faith he somehow would prevail.
"I felt the stars were lined up, that certain things were going to happen," Scamman said. "You know, people felt they wanted a change whether they were on the right, the left or wherever.''
This kind of bloodless revolt just doesn't happen in the 400-member House of Representatives, where the Republican Party has held control for more than 150 years and where its leaders climb the ladder, not vault the castle wall.
The closest in recent memory was in 1978, when the late Wolfeboro Republican Rep. Russell Chase took to the House floor to oppose the re-election of George Roberts of Gilmanton as House speaker with the backing of House Minority Leader Chris Spirou of Manchester.
Roberts hung on by a single vote.
"It was an interesting day," Scamman recalled. "It worked out well in the long run. A lot of ideas that people were promoting for change, George (Roberts) went forward and made those changes.''
Where was Scamman? He was presiding over the House after having opposed Roberts in the Republican caucus and lost.
"I asked the House clerk, 'Can I vote a second time to make it a tie or what?' '' Scamman joked.