Saying 'thanks'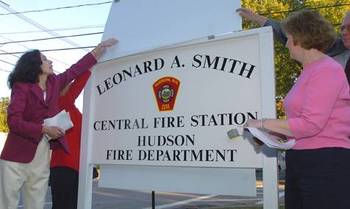 HUDSON – If he were alive to see Central Fire Station dedicated in his memory, Lenny Smith may have deferred the honor to others.
He may have noted there were other volunteer firefighters and other people who helped build the fire station, his daughter, Ann Brooke Smith said.
About 50 people attended the dedication ceremony of the Leonard A. Smith Central Fire Station Monday night, during which a new sign and bronze plaque were unveiled.
"I think he would have been shocked," said Smith, who described her father as a modest man.
The Fire Department also placed a time capsule in the station with memorabilia from the department and mementos from the ceremony including an older photo of Smith and a copy of Monday's Telegraph.
Smith, a longtime Planning Board member, was a volunteer firefighter for more than 20 years and a member of the Firefighters Relief Association. He also designed and helped build the Central Fire Station on Library Street, one of three fire stations in town.
Smith took great pride in the fire station, fellow Planning Board member Marilyn McGrath said. Whenever changes were proposed, he'd want to be involved and was always concerned about maintaining the building's integrity. "It seemed the right thing to do," she said of the station dedication.
McGrath proposed naming the fire station in Smith's memory. "He's an inspiration to me and should be to others who live in town," she said.
Speakers during the ceremony stressed Smith's long and extensive history of town service. "Mr. Smith always had Hudson in his heart and wanted what was best for it," Selectman Terry Stewart said.
Smith, who died nearly two years ago, was remarkable not for any one thing he did, but for the fact that he did so many things, former selectman and State Rep. Shawn Jasper said.
Even into his 80s, Smith continued to actively volunteer, serving on the Planning Board and other groups, Jasper said. When he was in the hospital, Smith would worry about missing meetings.
The town never held a dinner thanking Smith for his service, Jasper said, noting that he never slowed down enough for such an event. "He never stopped giving," he said.