Sarah Mildred Long Bridge to be demolished in October
Cianbro says earlier demolition won't affect construction timeline for replacement span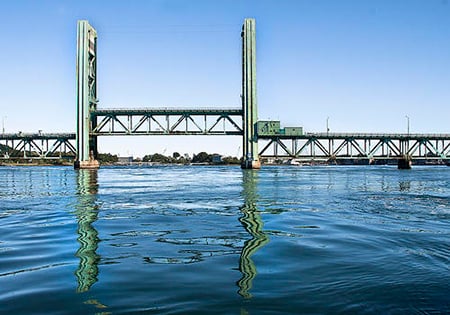 The demolition of the permanently closed Sarah Mildred Long Bridge connecting Portsmouth to Kittery, Maine, will take place in October, according to Cianbro, the Maine-based company overseeing construction of a new replacement bridge.
The 76-year-old bridge was already scheduled to close permanently on Nov. 1 to make way for continuing construction of the new Sarah Mildred Long Bridge, which is scheduled to open in September 2017.
Engineers from NHDOT and MaineDOT, along with movable bridge experts, determined the existing bridge was not safe for routine operation without what they said were complicated and extensive repairs – estimated is upwards of $1 million.
According to the Portsmouth Herald, Cianbro officials said the earlier demolition is not expected to change the project's timeline. Workers have begun the stacking of the tower segments on the lift tower pier on the Kittery, Maine, side of the Piscataqua River. They are expected to do the concrete pouring on the Portsmouth lift tower pier later this month, the newspaper reported.